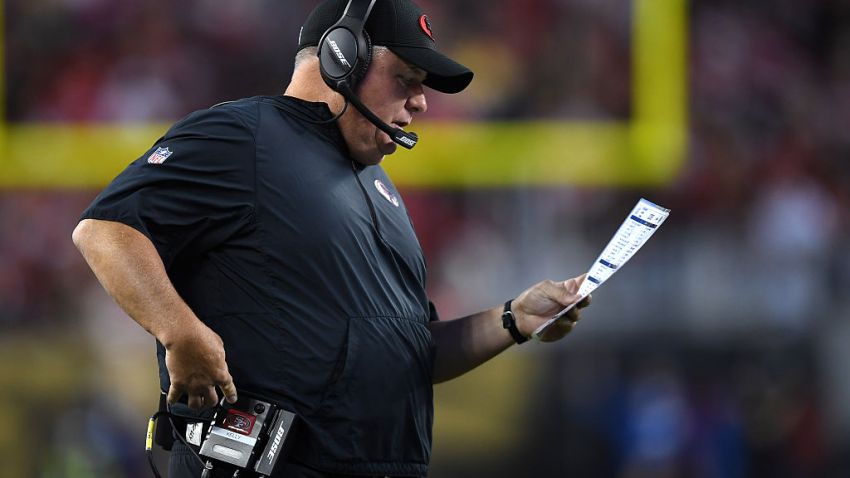 Weeks before the 49ers even played an exhibition game this summer, NFL talent evaluators were skeptical of San Francisco's roster.
The analytics website Pro Football Focus ranked the 49ers group of players the worst in the league, making them 32nd in roster talent. Their evaluation was that Chip Kelly's new team had problems on both sides of the ball and at almost every position, ranking the Niners' No. 31 at quarterback, 31st at wide receiver, 26th at offensive line, 23rd at defensive front seven and 17th in the secondary.
Noted PFF: "At quarterback, (Blaine) Gabbert and Colin Kaepernick will battle, which speaks for itself as to how far the 49ers have fallen."
Now, seven games into the 2016 season, the 49ers are 1-6 and last in the NFC West. Only the 0-7 Cleveland Browns have a worse record.
The 49ers players have been given the bye week off – the team doesn't play again until Nov. 6 vs. the Saints at Levi's Stadium – and Kelly says he and his coaching staff will use the time to take a hard look at every aspect of the team.
"We've got a lot of self-scout that we have set aside," Kelly told the media this week. "We'll be in here all week kind of looking at what we've done in the first seven games, what have our opponents have done to us in the first seven games relative to what we thought going into the game, based on the break downs."
Certainly, there's much to look at.
The 49ers offense is last in the NFL, averaging just 290 yards per game. At 20.6 points per game, San Francisco also is among the worst in the league. On defense, the 49ers are last in the NFL defending against the run and 30th overall, giving up a whopping 407.6 yards per game.
Kelly says one position that won't change over the bye week is quarterback, where Kaepernick will remain the starter. Kelly said he saw improvement in Kaepernick against Tamp Bay this past week.
"We hope he can continue to grow and build upon that," said Kelly.