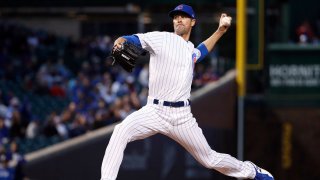 The Giants' starting rotation currently consists of two veterans in Johnny Cueto and Jeff Samardzija, with a handful of young question marks behind them. It looks like the front office is eyeing another veteran presence.
USA TODAY's Bob Nightengale reported Wednesday that the Giants pursued veteran free-agent pitcher Cole Hamels before the left-hander agreed to a one-year, $18 million contract with the Braves.
Hamels, who was being pursued by the #Phillies, #WhiteSox, #SFGiants and others, told teams he was interested in only one year, but he wanted close to $20 million.— Bob Nightengale (@BNightengale) December 4, 2019
Signing a veteran to a hefty contract could come as a surprise with the Giants' desire to go young. But it really shouldn't considering what the Giants did last season with the lefty Drew Pomeranz.
Not surprising Giants had interest here. Signed two lefties to one-year deal last year and then flipped Pomeranz for Dubon at deadline. They'd like to replicate that. https://t.co/0OBDmqLrAm— Alex Pavlovic (@PavlovicNBCS) December 4, 2019
If the Giants find themselves well behind in the standings at the July 31 MLB trade deadline this season, they would love to add future talent once again. San Francisco acquired a barrage of prospects at the deadline last season, including Mauricio Dubon -- who looks like the everyday second baseman -- from the Brewers in the Pomeranz trade.
Hamels also would have given the Giants a needed left-hander in the rotation. Perhaps lefty Tyler Anderson, whom the Giants agreed to terms with Tuesday after non-tendering him, could fill that void.
Atlanta adding Hamels reportedly also doesn't take them out of the market for another left -- longtime Giants ace Madison Bumgarner. The Athletic's Ken Rosenthal reported Wednesday that the Braves out of the race to sign MadBum.
Hamels taking physical today. Per source, #Braves' decision to sign him doesn't take them out of Bumgarner, but reflects market for him and others might exceed their comfort level. ATL signed Hamels for $18M, right around qualifying offer. Can give him actual QO at end of season.— Ken Rosenthal (@Ken_Rosenthal) December 4, 2019
[RELATED: Would Giants wait all the way until January to sign Cole?]
While the Giants might not add a big name like Bumgarner or Gerrit Cole this offseason, it will be interesting to see which veteran free-agent pitchers they pursue in the coming weeks.
Copyright C