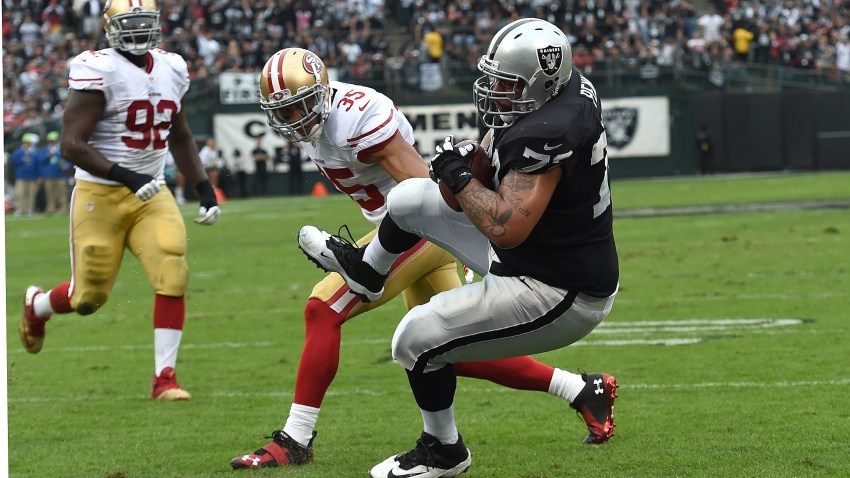 As the Battle of the Bay approached this past week, 49ers quarterback Colin Kaepernick was a man of few words.
He answered questions from the media about Sunday's game with the Raiders with a lot of "yeps" and "nos," and offered little insight into the cross-Bay matchup.
His mood seemed a bit dark. Perhaps he could feel what was coming.
On Sunday, the Raiders made Kaepernick eat every one of his few words in Oakland's 24-13 victory over the Niners at O.co Coliseum a decision that just about puts a fork in the 49ers' hopes for a playoff spot while giving the Raiders and their fans the highlight of a disappointing season.
The 49ers dropped to 7-6 with their second straight loss, and now face a final three games at Seattle and vs. the Chargers and Cardinals at home needing to go 3-0 and hope for plenty of help to get into the postseason.
The Raiders, meanwhile, improve to 2-11 and have just a little bit more to build on toward 2015, with rookie quarterback Derek Carr throwing for three touchdowns and outplaying Kaepernick. It likely was Carr's best game as a pro.
The teams were tied 10-10 at halftime, but then San Francisco went on a 9-play, 44-yard drive in the third quarter to go up 13-10. Yet the drive didn't yield a touchdown, a season-long problem for the 49ers offense. After having first-and-goal from the 9, they had to settle for a 20-yard Phil Dawson field goal.
The Raiders – who scored their first TD of the game on a 3-yard tackle-eligible pass from Carr to Donald Penn -- promptly responded with two 80-yard touchdown drives led by Carr, sandwiched around a San Francisco three-and-out, to go up 24-13 with 10:43 remaining in the game. The first drive ended with a Carr 9-yard TD pass to Marcel Reece; the second resulted in a 5-yard scoring pass to Mychal Rivera.
It certainly was a topsy-turvy result, considering the 49ers were playing for their playoff lives and were heavy favorites, while the Raiders were coming off a 52-0 loss and have zero chance of winning anything significant this season other than the right to choose first in the 2015 draft.
As longtime Bay Area columnist Ray Ratto tweeted at the time of the Rivera touchdown: "Successive 80-yard TD drives. By Raiders. Against 49ers. Birds now befriend cats, and dogs nuzzle the UPS driver."
The 49ers then put together a long drive of their own in a bid to get back into the game, but stalled at the Oakland 29-yard-line, where Dawson was wide left on a 47-yard field-goal attempt.
For all intents, the game ended there, fulfilling Carr's wishes for what he hoped would be a Raiders upset.
"If we could go out and win this one," he told reporters early in the week, "it would be a fun one to see our fans go crazy."
The victory earned a Gatorade bath for Raiders interim head coach Tony Sparano. It earned 49ers head coach Jim Harbaugh more attention for what now seems a certainty: that this will be his last season on the job in San Francisco.
Carr was 22-of-28 for 254 yards, three TDs and no picks. Kaepernick was 18-of-33 for 174 yards, one TD and two interceptions.
Oakland running back Latavius Murray, meanwhile, showed he indeed may be the team's running back of the future, gaining 76 yards, 13 more than the 49ers' Frank Gore (12 carries for 63 yards).
Even the Raiders defense put on a better shown than their cross-Bay counterparts, sacking Kaepernick five times in front of a stadium filled with 49ers and Raiders supporters.
Said Raiders GM Reggie McKenzie, to the Associated Press, shortly after the decision: "That was nice. Great win for the guys. This is what football's all about, an environment like this."