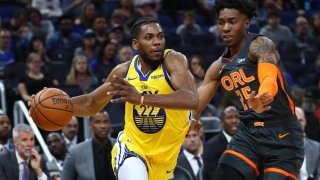 ORLANDO -- Continuing a recent trend this season, the Warriors did just enough to lose.
This time, the 100-96 defeat came at the hands of the Orlando Magic. Against the NBA's worst offense, Golden State participated in a relatively low scoring affair as Orlando reached the 100-point mark on a free throw with 0.4 seconds remaining in the game.
However, the Warriors showed heart, overcoming a 12-point deficit to take a brief 89-88 lead in the fourth quarter before the Magic recaptured the lead and held on the final seconds.
The loss marks the Golden State's second straight loss as the league's worst team continues to search for an identity amid a myriad of injuries to its core.
Here are the biggest takeaways from the night.
Eric Paschall flexes
The rookie continued an impressive campaign, scoring 17 points, adding six rebounds and two assists in 35 minutes.
Fourteen of those points came in the first half, as he hit a myriad of shots in the paint, prompting injured All-Star guard D'Angelo Russell to blurt out, "He really can't guard you" from the bench, while encouraging the rookie to keep up his paint attack.
In his first year with the Warriors, Paschall has thrust himself into the Rookie of the Year conversation. Entering Sunday, he was averaging nearly 19 points per game over his last nine outings. If he continues his pace, he'll be a key contributor even when the All-Star cast is healthy.
Jordan Poole struggles
Less than 48 hours after the best performance of his young career, Pooled failed to replicate the performance in Central Florida, missing all eight of his shot attempts.
Making matters worse, he briefly injured his left leg following a layup attempt.
This season has been a struggle as Poole's shooting just 28 percent from the field. Following his career night in Miami, Poole vowed to keep the same confidence no matter how his shot is doing.
Glenn Robinson III bounces back
After an 0-of-10 performance Friday evening, Robinson rebounded with a strong effort, scoring 13 of his 19 points in the first half, helping Golden State overcome a 12-point deficit.
Robinson has turned into a key contributor for this young core, averaging nearly 11 points per game. He continued the trend Sunday, hitting a late 3-pointer to give the Warriors a brief one-point lead in the fourth quarter. As the Warriors continue to grow, so will Robinson's role.
Copyright C