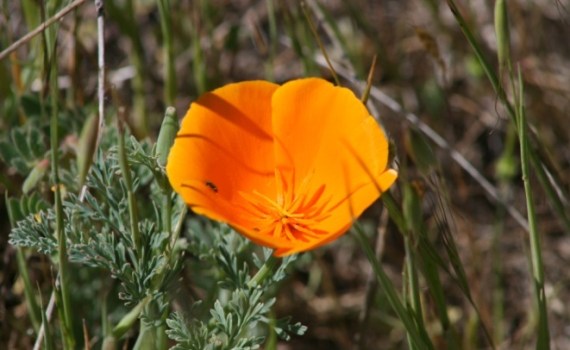 Michael Marchiano
Need a delightful dose of springtime? A mountain hike should do the trick. Make for Mt. Diablo for a lovely, wild-y strut.
THE ANTIDOTE FOR OVER-ASPHALTISM: It sounds like a riddle or brain-twister, but take this statement as plainly as possible: Cities aren't completely cities. We simply mean that while asphalt and concrete and glass may dominate our more congested metropolises, one is able to find a favorite park and a favorite tree and window boxes full of pansies and other natural places that cut through the traffic and stress and bustle-bustle of urban life. Thank goodness, too, for that. There is, however, one bump in this particular road, the road of an urbanite enjoying the nature in his or her immediate surroundings: springtime. While many a person can consume natural sights and sounds and smells within a city during the fall and winter and even summer, the first warm days of spring make us long for a truly wide open, flower-riddled, branchy-beautiful space. We're not saying anything new -- poets have spoken to this topic forever -- but we are saying that finding some outdoor goodness, in March or April, is healthy for mind and body.
AND... if your outdoor moment also honors a spot recovering from fire, and it honors an organization that's been doing good for a wilder area for four decades, well, all the better. The Mount Diablo Interpretive Association will lead a few springtime hikes around the pretty area, including one on Sunday, April 27 that "celebrates MDIA's 40th anniversary of preserving, protecting, and sharing Mount Diablo." Nice. There a few hikes coming up, from a mile-and-a-halfers to wends reach up to six-and-a-half miles. Various canyons and peaks'll be covered, so if Diablo's been something you've been longing to know better, this is your opp. Why not fulfill that self-promise in the spring, when poppies and flowers are out and the sun is (fingers crossed) all ashine? We love the nature in our cities, we do we do, but the poets know best: Springtime is when we run for the hills.