Report: Photographer Files Police Report Over Alleged Sean Penn Attack
Saturday, Oct 3, 2009 | Updated 2:15 PM PDT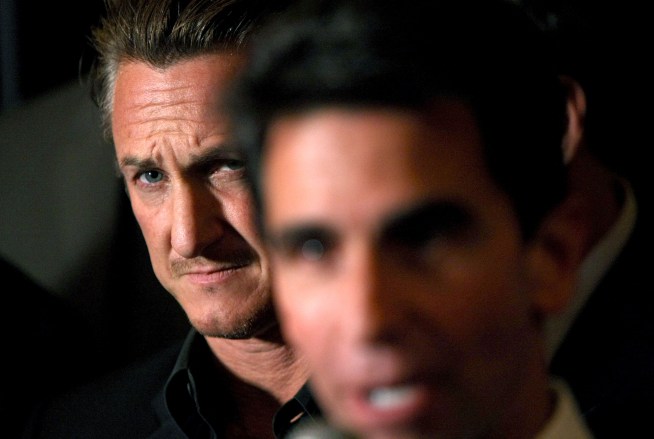 Getty Images
SAN FRANCISCO - MARCH 03: Academy award winning actor Sean Penn (L) looks on as California Sen. Mark Leno (R) speaks during a press conference announcing legislation to create a Harvey Milk Day in California March 3, 2009 in San Francisco, California. Actor Sean Penn and California State Sen. Mark Leno (D-San Francisco) announced legislation that will be introduced to create a Harvey Milk Day in California to recognize the efforts of the slain gay rights activist. (Photo by Justin Sullivan/Getty Images)
Sean Penn allegedly attacked a paparazzi photographer on Friday, according to TMZ.
The Web site reported that photographer Jordan Dawes is accusing the Oscar winner of battery after an alleged incident outside of the Brentwood Country Mart in Los Angeles.
VIEW THE PHOTOS: The Latest Star Sightings
In a photo posted on the site, Penn is pictured with his leftovers in hand, and appearing to kick his leg toward the photographer.
TMZ further reported that the actor allegedly hit Dawes "multiple times" before exiting.
VIEW THE PHOTOS: From Bad Boy To Oscar Winner: Sean Penn Over The Years
A rep for Penn had no comment when reached by Access Hollywood.
A Los Angeles Police Department spokesperson would not comment on the incident when reached by Access on Saturday.
Related Content from AccessHollywood.com:
VIEW THE PHOTOS: Hollywood's Top 5 Recent Celeb Meltdowns
PLAY IT NOW: Access Extended: Sean Penn Sits Down To Talk 'Witch Hunt'
PLAY IT NOW: 2009 Oscars Governor's Ball: Sean Penn
MORE ACCESS ON THESE TOPICS: Sean Penn - Paparazzi - Celebrities