Program Note: Giants vs. Diamondbacks on NBC
NBC shows are airing on KICU-TV36 while the game is on NBC Bay Area
Friday, Aug 30, 2013 | Updated 9:00 PM PDT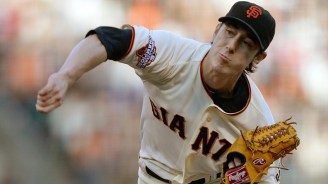 Getty Images
Tim Lincecum #55 of the San Francisco Giants pitches against the Pittsburgh Pirates at AT&T Park on August 24, 2013 in San Francisco, California. (Photo by Thearon W. Henderson/Getty Images)
Friday on NBC Bay Area, the San Francisco Giants will take on National League West rivals the Arizona Diamondbacks.
Be sure to follow us on Twitter as we live-tweet the game on @NBCBayArea and @GiantsCove!
Because tonight's game is airing on NBC Bay Area, you can watch regularly scheduled NBC programming on TV36.
Here's the Friday primetime schedule:
6:30 p.m. -- San Francisco Giants vs. San Diego Padres on NBC Bay Area
8 p.m. -- Betty White-Off Their Rockers on TV 36
9 p.m. -- Dateline NBC on NBC Bay Area (following the Giants game)