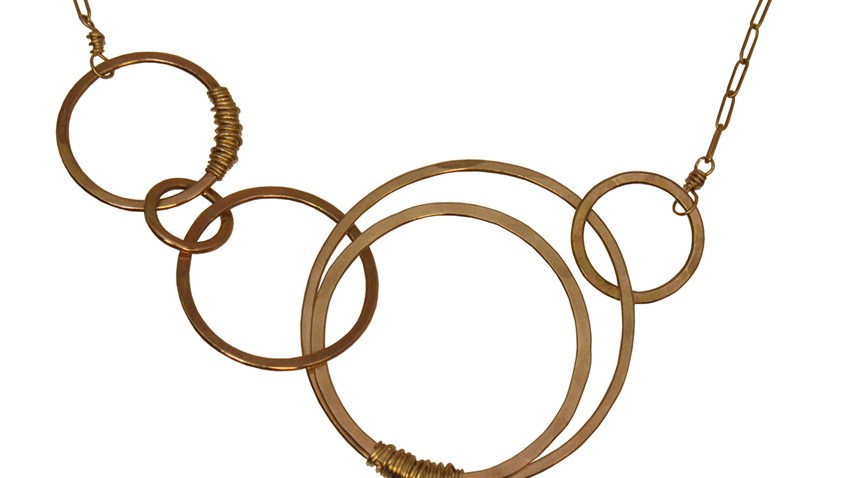 With the wide-reaching appeal of her silver and gold jewelry's textured organic forms and careful craftsmanship, it's no surprise to us that San Francisco designer Colleen Mauer has amassed quite the local fan base since launching her company in 2005.
A commitment to staying small and locally-made means you won't find Mauer's work in more than a handful of Bay Area boutiques, but that hasn't stopped the 30-year-old designer from garnering attention. Voted best local designer of 2009 during the San Francisco Bay Guardian's most recent reader's poll and an in-house designer at Bernal Heights gallery and work space Secession Art + Design, Mauer impresses with pieces that bypass trends in favor of streamlined shapes in versatile, layered combinations.
We visited Mauer recently in her studio, where she crafts one-of-a-kind silver and gold necklaces, rings, earrings and bracelets by hand. Read on for an excerpt from our conversation to learn more about her design process, her favorite way to travel and the best gift she's ever gotten.
So what's your daily routine like? How much do you work?
Basically, I'm here pretty religiously six days a week, and I'm like anyone else who goes to their regular job. I get up in the morning and I come here. The earlier, the better.
How early is early?
This morning, I got here at 8 a.m. I'm usually not here before 8, but I'm up at 6:30 or 7 a.m. I pretty much put in a 10 hour day everyday, but it's not uncommon to do like a 12 or 14 hour day without even thinking about it.
We always love asking about people's work habits, because sometimes we think there's this misconception about how much time artists and designers have to spend working to be successful. It takes a lot of time!
It's diligence. I mean just putting in the time and the effort I feel like is really what allows an artist to make it a career, you know, where they're not just dabbling in different mediums and fluttering around. They're actually thinking as an entrepreneur, like anyone else with a small business, I mean, we're business people, too, though not by training, most of us. I mean, I have zero background in business, but it's something you kind of learn as you go.

So in your average 10-hour day, how many pieces do you normally produce?
I do small groups of production, so say I'm having a high production day, I might do like five rings and five pairs of earrings. On a really heavy production week, like last week was insane, I made 50 pieces. I also have an apprentice that will come in and help me a little bit. I like to listen to music and kind of zone out and focus so in that 10 hours I am getting as much done as I can.

One thing that's always struck us about your work is its consistency. You don't launch "new collections" with themes or certain stones or anything like that. So in lieu of that, how does your work evolve? How is it different now than when you started out in 2005?
For me it's always like layering and adding more or simplifying. Some of the designs I've done have take a lot of iteration.
So how do you come up with new designs? Are you constantly building on and tweaking existing pieces?
Exactly, it's so much about iteration and evolution. I think my first earring made out of metal was like a simple hoop. And then these organic shapes actually happen. Literally, I was working with metal one day, making the perfect circle and while the piece was still soft – after you heat it, before you hammer it, it's actually really soft – I dropped it on the ground. The way it bent was so beautiful and perfect and organic, so things like that will happen.

What's the process like for creating each piece?
I start with wire, so each piece, every component of each piece is cut, is filed, and then it's prepared for the heat. After that I use the torch to essentially solder or fuse the metal, and then you have to do the whole finishing phase, which requires putting things in the tumbler and getting all the fire scale off the object and making it really beautiful and shiny.
What's your most popular style?
If I make a small medium and large, I would say most people gravitate toward the medium that you could wear to work but also out.
What metals do you work with?
Silver and 14K gold fill. I also do custom work in pure 18K gold. I've done a lot of that for people's engagement rings. If people are willing to pay for that, I'll totally do it. A lot of people have been doing stacks for their engagement.
What's your goal going forward as you continue to grow your business?
My goal obviously to expand. One thing that I will never do is have my stuff in some sort of Nordstrom. If someone came to me and said, Colleen, let's get your stuff into Nordstrom, I would say, absolutely not.
So what would be the be-all, end-all for you?
I want to keep it handmade. My dream, I'm 30 now, and my goal by the time I'm 35 is to have a five to 10 person production team that's local that I can actually work with….If I can afford to do that and figure out a way to do that, then that's what I'd like to do. I don't want to see it everywhere. I don't want it to be like, that's a Colleen Mauer design, you can get that in any neighborhood in the whole city.
I would also love to get my stuff abroad because one of my biggest passions in life is traveling.
Where have you traveled? Have you gone anywhere lately?
I've done a lot of Asia and New Zealand and Australia. I was just in the UK in August for three weeks. I was in England and Scotland. But I haven't really explored Europe as much as I'd like to, mainly because it's just so expensive. The way I travel is, if I'm going to go somewhere, I want to go for three weeks and be in one country. I'm not going to go to Europe for six weeks and try and do 20 countries…I feel like you can't really appreciate a culture or a place if you're just kind of cruising at top speed. I know that not everyone has that luxury to do that, but I don't know, that's just how I like to travel.
When you're not traveling or working in your studio or showing your jewelry at an event, what would we find you doing?
One of my newest hobbies is playing the ukulele.
Really?
Yeah, I needed a creative outlet. I don't watch TV. I don't sit on the couch. At the end of the day, I want to do something that I can unwind doing without staring at something. If I'm not at my computer, I'm doing a lot of intense eye exercises by doing the jewelry stuff, and I wanted an outlet. And my top three passions are jewelry, traveling and music. I listen to music all day everyday. And I was just like, why have I never picked up an instrument? I mean, I dabbled in piano as a kid. But I always had this secret obsession with the ukulele. And then for my 30th birthday, my friend Erin gave me a ukulele and that was like the coolest gift I have ever gotten. So I've only been playing since April.
You'll find me out seeing live music a lot. You'll maybe catch me in Dolores Park strumming my ukulele. Maybe at Secession. We do late-night jam sessions.


Lorraine Sanders is head honcho over at SF Indie Fashion