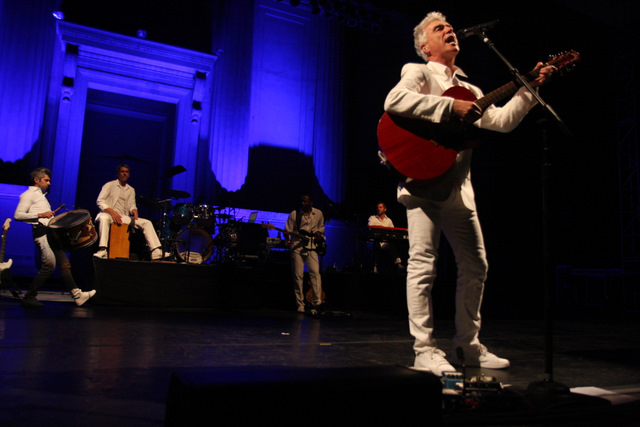 After being greeted by cheers and applause, David Byrne stepped up to the mic at the Greek Theatre on Friday night and quipped that they might even be doing some Greek tragedies—appropriately, he noted, mentioning Euripides and quickly informing the crowd that it wouldn't be his pants.
For Byrne fans, this was the right introduction—a touch of the erudite and a little bit goofy.

He started it all off with a song from his new album ("Everything that Happens Will Happen Today") called "Strange Overtones." It's a ballad that soars, proudly proclaiming: "This groove is out of fashion/These beats are 20 years old."
If there was any doubt as to the coolness of where you were, it was immediately dismissed upon realizing that whatever happened would be happening tonight at the Greek.

Byrne stood with perfect posture in his all-white attire and, with occasional hops, skips, and measured dance steps, led an ensemble of seven musicians and three dancers through new songs interspersed with Talking Heads standards.

Byrne has called his music "folk electronic gospel"—and he delivered a rock sermon that had everyone in the audience from the pit to the top of the lawn testifying in a foot chugging reverie, shaking their heads with sweet awe and shimmying in and out of their seats.

"Heaven"—like a lot of the earlier material—didn't include the dancers, and seemed better that way. The three clownish Felliniesque dancers added a sense of theater even though their routines sometimes seemed closer to calisthenics.

Byrne shed his white blazer to belt out a beseeching, gut wrenching, and desperate version of "Born Under Punches" and then finished up with "Once in a Lifetime", "Life During Wartime" and "Feel My Stuff."

Predictably, the Greek reverberated with chants and cheers for encores. Three followed, with "Take Me to the River" looking like the greatest exit number any band could ask for until Byrne said, "Wait, there's more."

Then the Bay Area's very own Extra Action Marching Band came marching down from the top of the amphitheater, winding its way through the crowd with silver pompoms, flags, muscled men and curvy women in sexy costumes with tubas, horns, drums, and full parade regalia swarming onto a fully lit stage.
Extra Action joined Byrne for a completely choreographed 40-person "Road to Nowhere" which was magical, and then for a tense and threatening (tingling) version of "Burning Down the House" while hundreds of white balloons floated down onto the stage and into the pit to everyone's delight.
And this is the perverse genius of Byrne, who can go to the wall with his existential tales and quotidian tragedies and have you smiling and bursting into laughter.
Performers and audience alike kicked and popped balloons, David Byrne stood in the middle of it all looking like the ring master of one of the greatest shows on earth.

For the last encore the marching band stayed back stage while Byrne sang "Everything that Happens" the title track off his new album with Brian Eno ("Everything That Happens Will Happen Today").
It's one of those sweet songs, until you listen to the words and feel the strangely reassuring ominous side of a modern rock master. At that point in the concert, you knew everything had happened.

A person who was moving toward the exit said: "It was a good party." That seemed to say it all.
Stan Adler was last seen chasing a white balloon across UC Berkeley campus singing Everything that Happens at the top of his lungs.