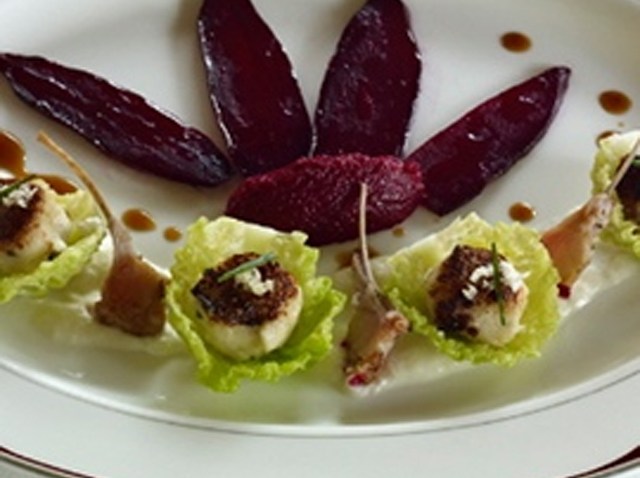 Say what you want about the Yankees, but they explore every possible avenue in their quest for success. For example the team spent $1.3 billion on a gleaming new stadium, adding three players (Teixeira/Burnett/Sabathia) to an already stacked lineup, and making it through almost an entire season without smashing Nick Swisher in his fat, idiot face. Well what if the Yanks lived here, and made awesome food? Then they'd be called Quince.

Poised to make its triumphant return to San Francisco's dining big leagues Oct. 1, the already dominant Quince has made a few marquee acquisitions this offseason, reinvigorated their menu, and moved into bigger, dreamier new digs.

This after tapping Olle Lundberg, aka the Dave Stewart of architects, to revamp the old Myth space's rustic brick and raw timber with "a palette of platinum and chocolate brown" -- mmmmmm...platinum.

The season's blockbuster signing is a bigwig pastry chef (formerly of the Ritz Half Moon Bay) who will be rocking all new desserts built around his philosophy of "eyes eat first" (i.e., it's pretty), while liquid roster pickups include dozens of new vino bottles hailing from Piedmont, and dozens more hard to find varietals sourced the world over, but not the world under, because ghost wines lack the tannins to pair nicely with food.

Regarding improvements on the food tip, chef and owner Michael Tusk added a slew of a la carte items and two tasting menus composed of delectables like pear tortellini with pecorino and poppy seed, Monterey abalone alla Milanese, and roast duck drizzled in Barolo wine sauce with sweet quince fruit (sooo Quince!).

Construction's in full swing, but Quince is already taking reservations. The catch? The first week, or so, is already booked by friends and family, unfortunately not including Swish, because he has neither, only bros.

Quince opens Oct 1: 470 Pacific Ave., at Montgomery St. in San Francisco's Financial District. Call 415-775-8500 for more information.
Copyright Archive Sources