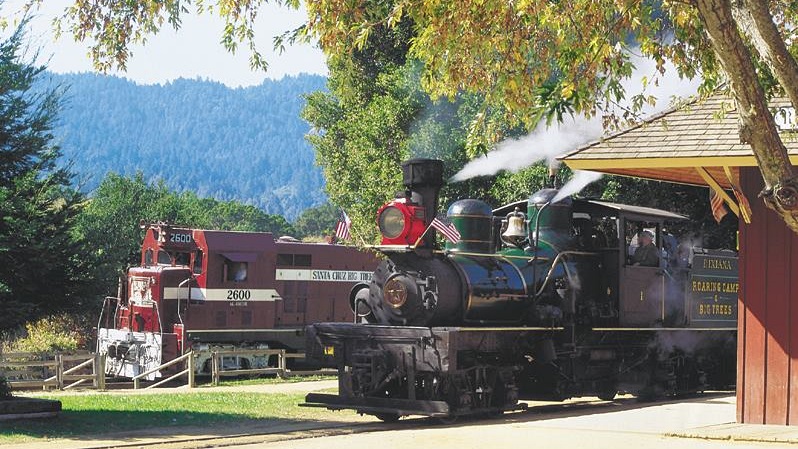 Halloween Trains: People who love the history, romance, and scenery of the rails love it all year long, but, come autumn, things change up at our state's historic depots. Orange-and-black streamers are hung and candles are placed inside pumpkins and the whole air of a day out chug-a-chuggin' gets a mite creepy. But that's part of the draw of the oh-so-popular holiday trains (yep, Thanksgiving and yuletide outings soon follow as soon as October 31 wraps). They're a little special, very seasonal, and you can only enjoy them once for a weekend or two. Tempted by a haunting ride? Then best make for...
Felton: The Roaring Camp Railroads celebrated its half-century this year, which means that even a normal Saturday run comes with plenty of atmosphere and past-lore. But the Steam Fair and Harvest Festival on Saturday, Oct. 12 and Sunday, Oct. 13 is going to get very scarecrow-y and the Halloween Train of Friday, Oct. 25 and Saturday, Oct. 26? Well, "The Legend of Sleepy Hollow" is mentioned, as are ghosts. Up for a chilling chug-a-chug? We bet you are.
Sacramento: If you're a buff of engines and cabooses and everything train, you likely have the California State Railroad Museum in Old Sacramento on speed dial. This is a nexus for everything train-y, but it isn't all exhibits and photographs. There are actual runs, including the Spookamotive Train Ride on Saturdays and Sundays from Oct. 12 through 27. That's right, we typed "Spookamotive" back there. Did you just get the Halloween chills? Good.
Fort Bragg: Do you think the people who run the Skunk Train would be sore if we asked if we could just, like, have a few sleepovers on it? The forest it passes through is redwood-y and picturesque, the track is winding and scenic, and the Pumpkin Express, which runs during October weekends, is treat-nice and cheerful. And, yep, a pumpkin patch stop is indeed made. See? Pajama party on the Skunky. This is just a dream we have, is all.
Copyright FREEL - NBC Local Media