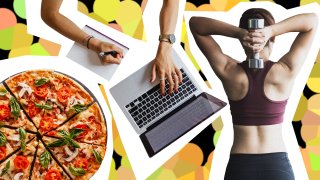 As the coronavirus outbreak shutters restaurants and stores across the United States, several companies have decided to offer discounts and deals to alleviate the closures' financial, emotional and technological costs on consumers, institutions and other businesses.
Here is a list of deals, discounts and freebies companies are offering amid the pandemic:
FOOD
&Pizza
Hospital workers are invited to stop by their local &Pizza for a free pizza! All you have to do is show your hospital ID. If you're too busy to leave work, &Pizza will deliver it. Just text 200-03 #HERO
Regular customers can also take advantage of free delivery with their orders.
America's Test Kitchen
Coronavirus Pandemic
Full coverage of the COVID-19 outbreak and how it impacts you
If you want to use this time to cook a delicious meal for your family, head to America's Test Kitchen for 50 of their all-time most popular recipes. They normally charge a monthly membership fee to access their recipes but are offering this collection for free during the Covid-19 emergency.
Blaze Pizza
Blaze Pizza is offering free delivery across the country. All you have to do is order on their website or app and spend $10 or more. You can also score free delivery on Postmates until March 22 or on DoorDash until March 22.
Burger King
Beginning Monday, March 23, Burger King is giving away two free kids meals with any purchase made through its app for take-out or drive-thru orders. The offer is valid through April 6 and can be redeemed once daily.
The fast-food chain also has free delivery via its mobile app for orders over $10.
Chipotle
Chipotle will deliver orders of $10 or more for free from March 15 through March 31 within its delivery areas and with participating stores only. The waiver is only applicable when you order at chipotle.com or on the Chipotle app.
Del Taco
Use code DELTACONOW for free delivery on Postmates until March 20. No minimum purchase. Delivery is also free on DoorDash for first-time customers. The company promises your order will be sealed to minimize any potential risk for customers.
El Pollo Loco
Along with offering sealed, tamper-proof delivery bags, the company is also offering free delivery on Grubhub at participating locations until April 7.
Just Salad
Just Salad is also offering free deliveries on salads ordered through its website and app. The offer runs through March 31.
KFC
KFC is making it easier to enjoy a bucket of fried chicken from the comfort of your own home by offering free delivery now through April 26. Order online on kfc.com
Krispy Kreme
Beginning Monday, March 30 on National Doctor's Day and on every subsequent Monday through National Nurses Week (May 6-12), Krispy Kreme will provide all healthcare workers free dozens of their original glazed doughnuts. Be sure to have your work badge with you to redeem the offer.
For everyone else, Krispy Kreme is running a "Friends and Neighbors" promotion on Saturdays beginning March 28. For every pick-up, drive-thru and delivery order of a dozen or more original glazed doughnuts, they will include another dozen for free. Each free dozen will include a special smiley-face doughnut to encourage customers "to put a smile on a neighbor's face."
Moe's Southwest Grill
You can pick up your order yourself or have it delivered for free, now through April 10 for all orders over $10 placed online and in the app.
Popeyes
Popeyes is offering free delivery through its mobile app and website.
Starbucks
Frontline responders in the coronavirus pandemic can receive free tall brewed iced or hot coffee through May 3, the company announced.
Sweetgreen
The fast-casual chain is thanking medical personnel and hospital workers by delivering free salads and bowls directly to them. If your health facility could use an Outpost, head to bit.ly/sgimpactoutpost, fill out a form and a member of the Sweetgreen Outpost team will be in touch.
Uber Eats
The food delivery service has waived delivery fees for more than 100,000 independent restaurants in the U.S. and Canada to support the restaurant industry "through an uncertain season," a press release read. Uber Eats will also provide 300,000 free meals through its app to first responders and health care professionals in the two North American countries.
EDUCATIONAL RESOURCES
Adobe
Adobe is supporting educators and students with free at-home access to its Creative Cloud applications online after thousands of schools switched to online learning to combat the coronavirus spread. Adobe's current global higher education and K-12 institution customers are able to request at-home access, which will be granted until May 31, 2020. It's also offering free 90-day access to its web conferencing tool, Adobe Connect, for both current subscribers and non-customers, until July 1, 2020.
Class Central
You can take free online courses from Ivy League universities like Brown, Columbia, Cornell, Dartmouth, Harvard, Penn, Princeton and Yale on classcentral.com
General Assembly
On March 26, General Assembly is offering a free Intro to Coding class. The livestream will focus on HTML and CSS. Sign up here.
Guggenheim
The Guggenheim Museum just released more than 200 books about modern art. You can read them online or download them in PDF or ePub formats, free of charge at the Internet Archive.
Khan Academy/Walt Disney Imagineering
'Imagineering in a Box' is a free online program that is "designed to pull back the curtain to show you how artists, designers and engineers work together to create theme parks. Go behind the scenes with Disney Imagineers and complete project-based exercises to design a theme park of your very own.
News-O-Matic
News-O-Matic is a resource for safe, age-appropriate global news. "We want to help minimize educational disruption and keep young readers informed about their world." Schools and students have free access to News-O-Matic now through June 30.
If you are a teacher or school leader, fill out this form to create your account and receive free access for your class to News-O-Matic. Once you've created your account, you will be able to create your class and set logins/passwords for your students. You can then share these logins with your students using existing communication channels such as email.
LinkedIn
Employees who are now working from home can access 16 of LinkedIn's online learning courses. The courses cover everything from tips for leading video conferences to advice on how to best work from home.
Loom
Video recording and sharing service Loom has made its Pro plan free for educators and students forever. Through July 1, 2020, the service will also remove the recording limit for its free plan, cut the price of its Pro plan in half to $5 per month and extend pro trials from 14 to 30 days.
ENTERTAINMENT
HBO
Beginning Friday, April 3, HBO will be making 500 hours of programming available for free via HBO Now and HBO GO. You don't need a subscription. Series include "Six Feet Under," "The Sopranos," "True Blood," "Veep," "The Wire." Documentaries like "The Apollo," "I Love You, Now Die," "United Skates" and movies such as "Isn't It Romantic," "Detective Pikachu" and lots more.
Viewers will need to download the HBO NOW or HBO GO apps or visit HBONOW.com or HBOGO.com.
SiriusXM
SiriusXM has made its 300-plus channel streaming service available for free in North America through May 15. The free package includes all ad-free music channels, live news, faith-based content, comedy, sports talk, politics, and on-demand content. Starting today, a new #StayHome Radio channel will play "happy, feel-good music" from artists like Lizzo and Coldplay to Pink and Bob Marley, SiriusXM said.
Anyone who's not already a SiriusXM subscriber can download the SiriusXM app or go to SiriusXM.com/streamfree, and start listening free of charge, with no credit card or commitment required.
FITNESS
305 Fitness
305 Fitness, which boasts dance cardio workouts, has a variety of free workout videos on its YouTube channel.
AARMY
The boutique fitness studio is offering daily bootcamp, cycle and "AARMY Challenge" workouts for free via Instagram Live. Follow @AARMY for the practice schedule
barre3
This workout class has a 15-day free trial that non-members can redeem here using the code BARRE3HOMEBODY.
Barry's
Barry's boot camp workout studio is streaming free 20-minute workouts on its Instagram, where you can check for specific streaming times.
Blink Fitness
Blink holds free virtual fitness classes on Facebook Live weekdays at 8 a.m. ET. More info here.
ConBody
ConBody, a boot camp-style workout class, is streaming live online workouts for people who register on the MindBody app.
CorePower Yoga
CorePower Yoga is offering free online classes on its CorePower Yoga On Demand site.
FitOn
You can access free workout classes that cover a variety of styles and techniques through the FitOn app.
Nike Training Club
The Nike Training Club app features free workouts crafted by professional trainers. There are sessions to help users improve everything from their mobility to their yoga form. You can also upgrade to a premium account to unlock more advanced workouts.
Obé
Obé Fitness offers a 7-day free trial through which users can view some of its 14 daily live classes and access more than 4,000 workout videos.
Physique 57
This barre studio has a 7-day free trial, through which users can sample its on-demand online classes.
Peloton
You don't need Peloton's fancy bike or treadmill to get the company's digital membership free for 90 days. Peloton's app offers classes on yoga, meditation, strength training, running and more. After the trial period, the app charges $12.99 a month.
Planet Fitness
The fitness chain has started streaming free roughly 20-minute workouts for people who are stuck in their homes but still want to get active. The daily Facebook Live events start at 7 p.m. ET on Planet Fitness' Facebook page.
P.volve
Through the week of March 16, fitness platform P.volve is streaming 15-20 minute workouts led by its instructors on its Instagram Live and 10 post-workouts on YouTube. If you miss the sessions, you can also sign up for a 30-day free streaming trial using the code OnePvolve.
Sky Ting
Through the week of March 16, New York City-based yoga studio Sky Ting is offering a week of free access to its video platform, Sky Ting TV.
Tracey Anderson Method
The Tracey Anderson studio offers a two-week free trial that'll grant you access to its online workout classes.
Yogaworks
Yogaworks streams free yoga classes daily. Check it out here.
SERVICE PROVIDERS
AT&T
AT&T has removed usage caps for its home broadband internet service, which means customers that gold over the old limit will not be subject to overage fees. The company also reminded people that its public wifi hotspots are still open to all.
Comcast
Comcast has made its Xfinity Wifi hotspots accessible for free to everyone, including non-Xfinity Internet customers. You can view a map of all Xfinity hotspots here. Once you're in a hotspot's vicinity, find and select the "xfinitywifi" network name in the list of available hotspots.
Along with a host of other data providers, Comcast is giving all its customers unlimited data for the next 60 days.
For the company's Internet Essentials program, which services low-income families, new customers will have access to the program for free for 60 days. The program normally costs $9.95 per month. Comcast has also permanently increased the base Internet speed for all existing and new Internet Essential customers. Find out more about eligibility and applying for the service here.
Sprint
As of March 18, Sprint is upgrading customers with existing data plans to unlimited date for 60 days. Customers will also have access to an additional 20GB of mobile hotspot data for free.
As of March 17, Sprint had waived per-minute toll charges on long-distance calls to countries the Centers for Disease Control and Prevention have designated as Level 3 because of the spread of the coronavirus. You can find a list of those countries here.
T-Mobile
T-Mobile is upgrading customers to free unlimited smartphone data for the next 60 days if they already have a phone plan that includes data, the company announced in an open letter.
RETAIL
Allbirds
Allbirds has already donated $500,000 worth of shoes and is now asking the public to help them donate even more. When you buy a pair for yourself, you'll automatically give a pair to a healthcare professional.
If you're not looking to add to your shoe closet, you can still support by donating $60 to provide a new pair of wool runners for a healthcare worker.
Crocs
Crocs has launched "A Free Pair for Healthcare" initiative in which they hope to outfit U.S. healthcare workers with a free pair of their comfortable clogs while supplies last. The company has not specified a total donation amount but is shipping out as many as 10,000 pairs a day.
To request a free pair, check their website every day at 12 p.m. ET.
Draper James
Reese Witherspoon's clothing brand, Draper James, is giving away free dresses to teachers across the United States as a show of gratitude for all of the extra work they're doing during the coronavirus pandemic.
Teachers can fill out a form with their contact information and a photo of their school ID starting Thursday until this Sunday, April 5 at 11:59 p.m. ET, according to the news release. Eligible teachers will then receive an email on April 7 with details on how to receive their free dress.
OTHER
Delta
Eligible medical professionals will be able to fly for free to certain heavily impacted regions of the United States, Delta announced. Medical volunteers can fly round-trip on Delta to Georgia, Louisiana and Michigan. Flights will be offered beginning in April and they can be booked up to three days before intended travel. You can check Georgia's site here and Louisiana's site here to see how to sign up for the states' medical volunteer programs.
Hallmark
Hallmark has already given away one million cards and now they're doubling their efforts and giving away a million more.
Just go to Hallmark.com/CareEnough to receive a free three-card pack, while supplies last. No purchase necessary. "Kindness and intent to put more caring in the world is all you need to participate."
U-Haul
U-Haul is offering 30 days of free self-storage to anyone with a college ID to aid college students who were forced to move out of dorms and head back to their hometown to start online classes. The offer is based on availability at your local U-Haul owned and operated facility.