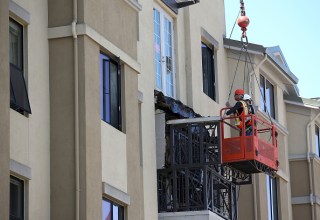 A 21st-birthday party thrown by a group of visiting Irish college students turned tragic early Tuesday when the fifth-floor balcony they were crammed onto collapsed with a sharp crack, spilling them about 50 feet onto the pavement. Six people were killed and seven seriously injured.
Police and fire and building officials were working to figure out why the small balcony broke loose from the side of the stucco apartment house a couple of blocks from the campus of the University of California, Berkeley. But one structural engineer said it may have been overloaded if, as city officials said, it was holding 13 people.
On Tuesday afternoon, the California Highway Patrol released some of the 911 audio from the collapse. A woman is heard saying on a recording of the emergency call that "our balcony just collapsed." The dispatcher tries to calm the woman down to get the exact address of the building.
"Those people are unconscious," the woman later tells the dispatcher.
Five of the victims were all 21-year-olds from Ireland. They were identified as: Olivia Burke, Eoghan Culligan, Niccolai Schuster, Lorcan Miller and Eimear Walsh. Most were from Dublin.
The sixth victim was identified by the Alameda County Coroner Sgt. JD Nelson as Ashley Donohoe, 22, an Irish-American from Rohnert Park. She was related to Burke.
Published at 4:38 PM PDT on Jun 16, 2015 | Updated at 5:45 PM PDT on Jun 16, 2015