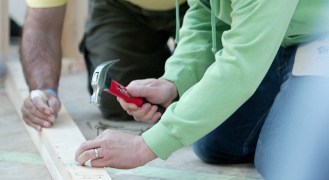 State workplace safety investigators are looking into whether proper safety procedures were being followed when three workers were hospitalized with carbon monoxide exposure at a Berkeley construction site on Friday, according to a spokeswoman with the state Division of Occupational Safety and Health.
Two of the injured workers were taken to Highland Hospital in Oakland and released later the same day. The third was taken to John Muir Medical Center in Walnut Creek and spent the night in the hospital, Cal/OSHA spokeswoman Erika Monterroza said.
They were working on installing a pool at a construction site at the intersection of San Pablo and Folger avenues at about 4 p.m. Friday. The general contractor, San Francisco-based GCI, is working on renovating the Marchant building there, where a City Sports Club is slated to open.
The three workers were with a subcontractor, Ripon-based Burkett's Pool Plastering, and were using a gas power washer inside a glass-enclosed area when they were overcome by carbon monoxide, Monterroza said.
Berkeley firefighters responded and took the three injured workers to hospitals.
Cal/OSHA has up to six months to complete its investigation. If the employers were found to be violating safety procedures, they could be cited, Monterroza said. Neither GCI nor Burkett's could immediately be reached for comment.