At a ceremony at Los Angeles' historic Union Station, Gov. Jerry Brown on Wednesday signed into law a controversial bill that commits billions of dollars of state funding for a high-speed rail project slated to eventually link LA to San Francisco.
The bill, SB 1029, was approved along party lines in the state Senate July 6 after much political maneuvering. It authorizes about $8 billion in transportation funding, including funding for construction for the first phase of the rail line, to be built in the Central Valley.
Brown addressed criticism of skeptics who think the project is fiscally irresponsible.
"People say, 'Hey, we better stop. Dig a hole and climb in because the sky is falling.' Well, the sky won't fall if we build the kind of infrastructure, the kind of public works (that will be) getting California to work again," Brown said.
Los Angeles Mayor Antonio Villaraigosa, who has billed himself "the transportation mayor," was at the signing ceremony.
"If you go to Japan or China or western industrialized nations around the world, they're not talking and debating about high-speed rail. They're building it," Villaraigosa said. "It's time California do the same thing."
Brown is expected to hold a separate signing ceremony in San Francisco later Wednesday.
The project, initially approved by voters who supported a $10 billion bond measure in 2008, has lost support in the electorate. Critics have called it a misguided boondoggle while supporters say it's a visionary commitment to California's transportation future.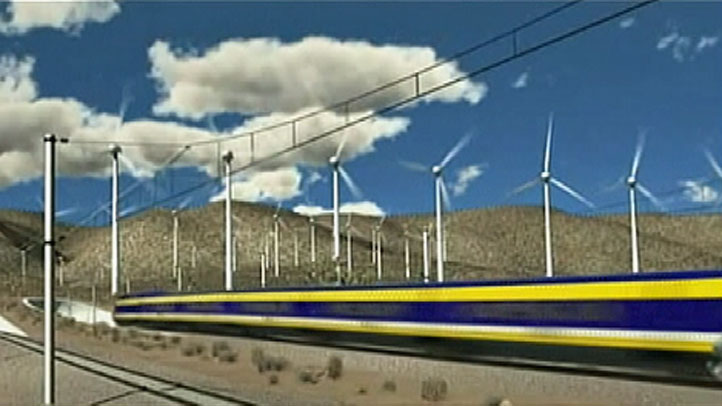 The project is supported by the administration of President Obama, who has said so-called "bullet" trains provide jobs and green transportation. State Republicans largely oppose it.
The law authorizes the state to begin selling $4.5 billion in bonds, including $2.6 billion to build an initial 130-mile stretch between Madera and Bakersfield.
The law's enactment also allows the state to collect another $3.2 billion in federal funding that could have been rescinded if the bill had not been approved at the last minute.
It additionally funds regional rail projects across the state, including $115 million for the downtown LA regional connector, an underground light rail that will enable riders to get around Los Angeles County without having to transfer to different trains, according to City News Service.
Another $350 million will be available fund a Union Station project that would allow trains to travel in two directions from the station, CNS reported. The station's current setup only allowed trains to leave in the same direction they enter.
The high-speed train line's final cost is projected to be $68 billion, up from an original estimate of $40 billion.
City News Service contributed to this report.
Follow NBCLA for the latest LA news, events and entertainment:iPhone/iPad App | Facebook| Twitter | Google+ | Instagram | RSS | Text Alerts | Email Alerts
Published at 2:38 PM PDT on Jul 18, 2012 | Updated at 8:47 PM PDT on Jul 18, 2012