The 49ers are getting their wish, but so are the Giants.
A day after their dramatic victory over the New Orleans Saints in the divisional round of the NFC playoffs, the Niners scored another win when the New York Giants knocked off the top-seeded Green Bay Packers Sunday.
Suddenly, the 49ers didn't have to worry about traveling to Wisconsin in the dead of winter to face the defending Super Bowl champs, but get the home-field advantage in the NFC Championship Game vs. the Giants, a team they beat earlier this season 27-20.
While the Niners are pumped to be home, the Giants are excited to get another shot at a team they believe is beatable, with a trip to the Super Bowl on the line.
"We felt like we could have beat 'em," Giants safety Deon Grant told Rob Reischel, writing for the Bay Area News Group, referring to New York's loss to the 49ers in Week 10. "It came down to a few plays here and there, and I have to take my hat off to them because they dialed up the right plays to beat us. But we felt like we should have beat them."
In that 27-20 San Francisco victory in November. 49ers quarterback Alex Smith led his team to a fourth-quarter victory, throwing a 31-yard TD pass to Vernon Davis, then connecting with Michael Crabtree on a two-point conversion for a 20-13 lead. The 49ers added another score after an interception on Kendall Hunter's 17-yard TD run to go up 27-13.
Giants QB Eli Manning's touchdown pass to Hakeem Nicks with 3:44 left in the game got New York back to within a touchdown. But later, when Manning drove his team to San Francisco's 10-yard line with the clocking ticking down, 49ers defensive lineman Justin Smith batted down Manning's fourth-down pass to preserve the win.
In that game, the 49ers were able to bottle up the Giants' running game, allowing just 93 yards, but Manning threw for 311 yards.
The Niners, meanwhile, lost Frank Gore early, leaving much of the offensive load to Smith, who completed 19-of-30 throws for 242 yards and rushed six times for 27.
Coming off his impressive performance against the Saints, and having played well against the Giants, Smith should be confident in this Sunday's NFC Championship Game.
Plus, as Mike Sando of ESPN.com noted, Smith has been "much, much better" at home this season. Using ESPN's QBR formula, Smith's home vs. road rating differential was the highest of any quarterback in the NFL (71.6 at home, 29.3 on the road).
Sunday's Giants-49ers matchup will mark the eighth time the teams have played in the postseason, with the last being the 49ers' 39-38 victory in January of 2003. The Niners hold a 4-3 edge in the postseason series. New York, however, is 4-0 all time in NFC Championship Games.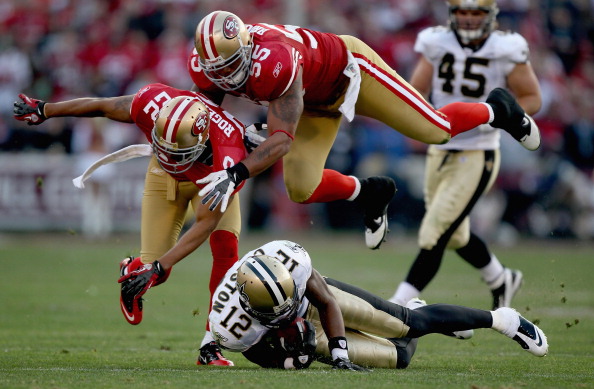 Cornerback Carlos Rogers – who intercepted Manning twice in the November game – and his teammates are excited they get to play for the NFC title at home.
"It's great," Rogers told the San Francisco Chronicle's Vittorio Tafur. "It's a lot better than traveling to Wisconsin. More importantly, we're playing a team we've already faced. It's not as hard as preparing for another team we haven't faced yet."
Rogers, however, noted the Giants have "gotten better since we played them."
"We got the turnovers and were able to get to Eli," Rogers said of their earlier game.
Now the Giants have won four straight and are coming to San Francisco excited and confident.
"We're hot right now," Giants tight end Travis Beckum told reporters. "We're very hot, and I think we're a very dangerous team."
Published at 8:42 AM PST on Jan 16, 2012 | Updated at 3:53 PM PST on Jan 16, 2012