What to Know
Sister Roma, one of San Francisco's most celebrated drag queens, was invited to take part in Outward Bound's annual fundraiser

"Over the Edge" asks participants to raise $1800 each for a chance to rappel down a tall building in San Francisco

The money goes to scholarships for at-risk young people to have outdoor adventures
Sister Roma is no stranger to risk-taking.
"The most dangerous thing I've ever done was march in the very first Fresno gay pride parade, with the KKK on the sidelines," said the drag queen known as the most photographed nun in the world on Friday.
Still, this was a new sort of risk for Sister Roma: strapping into a climbing harness and rappelling from the 46th story of the San Francisco Hilton Union Square on a sunny day in October, with fans cheering from the windows and the bustle of the city down below — all while clad in a fabulous feathered headdress and full makeup.
Just watched @SisterRoma rappel from the 46th floor of the @HiltonSFUnionSq to raise money for @OutwardBoundCA. While going over the edge was scary, the Sister said she was protected by "God's helmet" (a fabulous-looking one at that) and that the experience was second to nun! pic.twitter.com/CVO645BY5r

— Jonathan Bloom (@BloomTV) October 12, 2018
"Is your harness comfortable?" asked an Outward Bound California volunteer.
"I'm a drag queen. We're used to pain," Roma, whose name is Michael Williams, replied.
The harrowing experience was a fitting fundraiser for Outward Bound California, a nonprofit that sends young people on outdoor adventures designed to open their minds and challenge their notions of what they can and can't do.
"They push past perceived limits, and they go over the edge and they do this thing that is so big," said Maggie Lyons Weller, Outward Bound's Bay Area program director.
Each participant in fundraiser was asked to raise $1800 for the privilege of attempting a feat that, while terrifying, is actually quite safe, an instructor told the group.
3 Hours in 3 Minutes: Watch Sister Roma's Amazing Makeup Transformation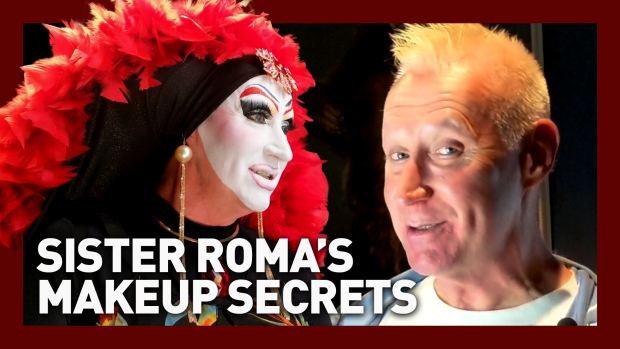 "In fact, statistically, it's more dangerous getting here," he said, referring to the snarled downtown traffic far below.
Sister Roma, a 20-year member of the Sisters of Perpetual Indulgence, was a pioneer among activists to educate the LGBT community on practices of safe sex and how to stop the spread of AIDS. Today, the Sisters continue to speak out and take action on issues of intolerance, all while wearing religious robes with elaborate jewelry and makeup.
Outward Bound, Roma said, "is perfect for what the Sisters do. We support people, we work for charity, we put ourselves out there every day. Everything we do is sort of risky just by being who we are."
Watch the video above to see Sister Roma's terrifying journey over the edge.
How Sister Roma Deals With Various Reactions in Public