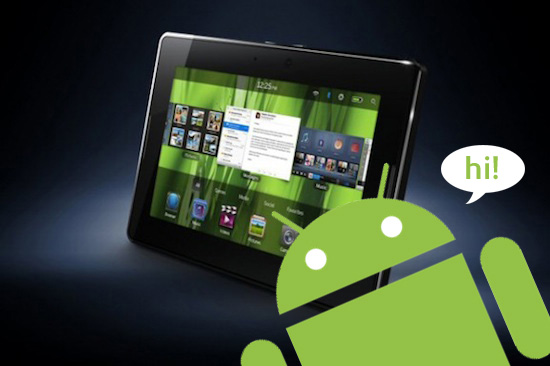 How many times do you have to beat a BlackBerry PlayBook until it admits to being able to run Android apps? It would appear to be three. The feature isn't only speculation and murmurs anymore — RIM's made it official.
The official word from RIM is that the PlayBook will have support for Android 2.3 apps, but not support tablet-optimized Android 3.0 Honeycomb apps. Basically, smartphone Android apps OK, tablet Android apps not OK.
Although RIM didn't shed any light on how the PlayBook would run Android apps, it's widely believed that a virtual machine of some sort is at play. Developers who want their Android 2.3 apps in RIM's app store, BlackBerry App World, "will just need to repackage, code sign and submit."
If you were sitting on the edge thinking about the PlayBook, Android apps might just be the feature that convinces you to buy on on April 19. As a potential buyer, I think I'll wait to see just how well Android apps run on the PlayBook before making any snap judgments. If the apps appear to run smoothly without any glitches, I might be convinced to drop $500 on RIM's first tablet.
Via Mashable
Copyright DVICE - DVICE