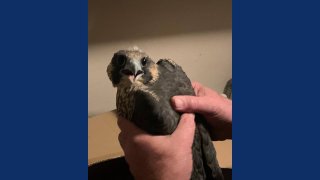 Officials with the San Francisco Fire Department said they received an unexpected guest at one of their stations Friday night.
According to San Francisco fire officials, a baby falcon was rescued by a good Samaritan out of the bay water and it was delivered to firefighters at SFFD station 35 in the Embarcadero.
San Francisco fire posted a photo of the months-old baby falcon on their Twitter and Facebook pages Saturday afternoon.
According to the Bay Area Raptor Rescue, the falcon has a clean bill of health and will be released to its nesting area.