The body of a firefighter who died battling the Mendocino Complex fires was escorted from Ukiah to the Charles M. Schulz Sonoma County Airport by an honor guard Wednesday afternoon so his remains can be returned to Utah.
Battallion Chief Matthew Burchett of the Draper City Fire Department died Monday after suffering injuries while working near the unincorporated community of Pillsbury.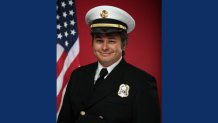 Burchett was transported by helicopter to Ukiah Valley Medical Center but ultimately died of his injuries. He was 42, and had 20 years experience as a firefighter.
"As you can imagine, our hearts are heavy as we digest this tragic news," Draper City Mayor Troy Walker said in a statement Tuesday. "Last night, we lost one of our Draper firefighters, a true hero."
California Gov. Jerry Brown also issued a statement about Burchett's death.
"Firefighters from across the nation, and world, have selflessly battled California's massive wildfires and sadly today we mourn the loss of one of those heroes," Brown said.
"Our hearts ache for his wife and young son, family members, loved ones, colleagues with the Draper City Fire Department and the entire state of Utah," Brown said.
Flags in Sacramento will be flown at half-staff in Burchett's honor, Brown said.
The funeral procession started at 2:30 p.m. at Eversole Mortuary in Ukiah, then headed to southbound U.S. Highway 101 via North State Street and Lake Mendocino Drive before exiting at Airport Boulevard for the Sonoma County Airport.
Fire officials have asked that the privacy of Burchett's family be respected.
A fundraiser for his family has been set up by the Utah Firefighters Emerald Society. Anyone looking to donate can find it online at http://www.utahfes.org.
[NATL-BAY] PHOTOS: California's Largest Wildfire on Record
Copyright BAYCN - Bay City News