Marking an unusual connection between humans and sea creatures, marine mammal experts in Sausalito hope to soon begin testing human epilepsy drugs on sea lions stricken by a marine toxin.
The chief pathologist at the Marine Mammal Center said the hospital is working alongside Stanford University researchers who are studying treatments for human epilepsy. The collaboration could soon result in a cross-species clinical study to test treatments developed for humans on sea lions.
"The pathology in the California sea lions, it's very very similar to what people get with temporal lobe epilepsy," said the center's chief pathologist Padraig Duignan.
The center, which is perched on a hilltop overlooking the Pacific Ocean, has seen an uptick in sea lions suffering domoic acid poisoning, a naturally occurring toxin that is released in algae blooms. Unusually warm waters off the California coast over the past couple of years have lead to an increase in domoic acid which builds up in shellfish and anchovies — the sea lions' primary diet.
"So generally when these animals are found," Duignan said, "they come on shore — they're disorientated — they seem to be a little less aware of their surroundings."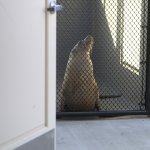 Duignan said sea lions suffering from domoic acid poisoning exhibit signs of brain injury such as partial blindness, disorientation and severe seizures. He said drugs developed to treat human epilepsy could potentially be used to ease at least some those symptoms in sea lions.
"It will be possible to develop new drug therapies," Duignan said, "and try these drugs on sea lions that are being treated anyway — and see how it works on them before you would go to human trials with similar drugs."
This year, the marine center has treated about 60 patients that are likely related to domoic acid poisoning. Last November, California health officials shut down the majority of the state's commercial dungeness crab season after the crustaceans showed unsafe levels of the toxin. Experts say the unusually warm coastal waters allowing the toxins to thrive are likely a sign of climate change.
The center treats the animals with a steady flow of fluids, food, medicine and rest. Vets say a number of animals that aren't able to return to the wild have to be euthanized.
"The better treatment we can give them," said staff veterinarian Cara Field, "the faster we can give it to them — the more likely they'll have a good outcome."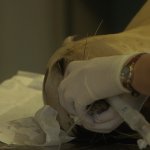 Duignan said the vast number of animals coming into the shelter provides a good pool of candidates for a clinical trial. He said while no clinical trials are scheduled, they may not be far off.
"We see so many cases," Duignan said, "that it could be pretty soon that you actually develop clinical trials on the sea lions that need treatment anyway."
On a recent day, Field and her team performed an examination on a partially blind sea lion nicknamed "Wrangler," that was exhibiting signs of domoic acid poisoning. The team hoisted the anesthetized sea lion onto an examination table — where its eyes were examined and blood samples taken. Afterward it was carried back to its pen where it began to revive from its drug-induced nap.
Field said the sea lion's eyesight may recover if the treatment for domoic acid poisoning is effective. Field watched Wrangler slowly regain consciousness and stare absently at the gathering of would-be-saviors.
"It feels great, you know you really helped that animal through a pretty significant crisis," Field said. "We're all hoping the water temperatures will go back to more normal."