Game of Thrones fans in the Bay Area, it's time to claim your seat on the "Iron Throne."
That's right. The AT&T West Coast Flagship Store located at 1 Powell St. in San Francisco has opened a "Game of Thrones" experience that allows visitors to immerse themselves in the world of Westeros, according to AT&T.
The elaborate world mirrored after the hit HBO series features a replica "Iron Throne," the chance to take a peak at the blue-eyed, horn-wielding "Night King" looming on the second floor and an expansive map illustrating the seven kingdoms, according to AT&T.
The technology-saturated map identifies people traversing across the kingdoms and then sends their location to a virtual forest pictured above their heads on a massive LED wall. The infamous "White Walkers" then "follow" visitors meandering around the continent.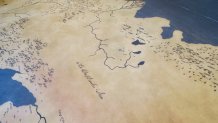 Additional props and features are expected to be added to the exhibit over the coming weeks, according to AT&T.