She's been a judge. A hate crime task force leader. A city councilwoman. An anti-death penalty crusader.
And now, it turns out, LaDoris Cordell, who is currently San Jose's Independent Police Auditor, is also an artist.
Her latest masterpieces are being sold as part of a calendar. The proceeds will go to benefit the IPA's Teen Leadership Council.
Cordell, who was a Santa Clara County Superior Court judge from 1988 to 2001, pokes fun at the justice system with tongue in cheek illustrations. She doesn't want to give away all her riddles, but one image shows a bullet-riddled pink mug, with coffee leaking out of it. viewers are supposed to guess what legal term she's describing. (ANSWER: Mug shot.)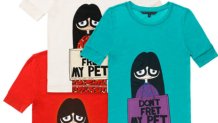 The calendars are available to the public for suggested donations of $15 per calendar and $10 per calendar for three or more. If you donate $100, you can own one of the original calendar drawings signed by Cordell.

"I love to draw and I love the TLC so drawing illustrations for a 2015 calendar to benefit the TLC was a no-brainer," Cordell said. "I had a lot of fun coming up with ways to depict legal/police terms."
To pre-order calendars, e-mail the IPA office at ind_pol_aud@sanjoseca.gov or call the office at (408) 794-6226. You can pay by cash or check, and your donation is tax deductible. Please make checks payable to "Office of the Independent Police Auditor—TLC."

[[278757441, C]]
Calendars will be available for pick up at the IPA office starting Monday, November 17. The IPA office is located at 75 E. Santa Clara Street, Suite 93.
To view the 12 original illustrations featured in the calendar, visit the IPA website: http://www.sanjoseca.gov/ipa.