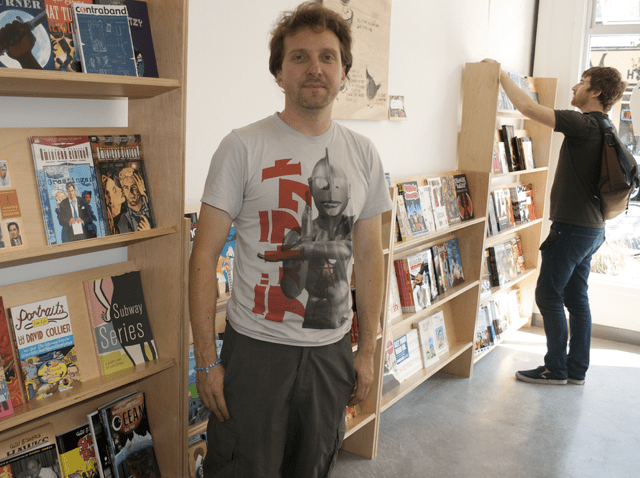 San Francisco's Mission District has entered a sort of Comic Art Renaissance lately, with last spring's opening of Caffeinated Comics and yesterday's launch of Mission: Comics and Art near 20th and Mission.
Mission: Comics and Art is the brainchild of Leef Smith, a longtime comic reader and Mission resident. Back in October, his employer did him the favor of releasing him from wage slavery; and since his neighborhood had languished without comic shops for several years, his next steps were clear.
M:C+A Is a unique environment: it's as much an art gallery as bookstore, similar to Secret Headquarters and Meltdown in LA. Adorning the walls of M:C+A are works of art by Matt Delight, fantastically kitchy superhero posters by Women's Art Movement, moving paintings by Meredith Scheff-King, and startling line drawings by Betsy Lam.
"I wanted a place where people feel welcome," Leef told NBC Bay Area when we visited the shop yesterday, "even people who haven't read comics before." And to that end, M:C+A boasts an inspiring collection of independent, artsy, trade-paperback books: the sort of book that anyone could wander in off the street and easily dive into.
For newcomers, Leef recommends Ed Bruebaker's "Criminal" series, a collection of interweaving tough-guy tales of violence and vendettas. If that sounds a little too gritty, we recommend the Scott Pilgrim series, a goofy-fun story of an early-20s kid with a crush on a girl who has an unexpected past with unexpected powers. And of course, his stock of the usual suspects -- spandex-clad muscles and breasts -- is sufficiently robust to satisfy comic book pros.
The store's open for business as of now, so whether you're looking for a gallery, for a familiar old superhero, or for something utterly new to read, don't miss Leef's uniquely Missionesque twist on the comic and art store.
Copyright FREEL - NBC Local Media