Add Paul Figueroa to the growing list of former Oakland police chiefs.
Figueroa, who served two days as the city's sixth police chief since 2011, stepped down from his position as acting chief and assistant chief, Mayor Libby Schaaf announced late Friday during a press conference.
Schaaf also addressed another controversy involving alleged racist text messages sent by Police Commander Tony Jones to four other officers in the department. The mayor said an investigation is ongoing.
"As a Mayor of Oakland I am here to run a police department, not a frat house," Schaaf said.
The mayor also called the culture at the police department "toxic" and "macho."
NBC Bay Area has obtained exclusive details on the text messages, which depict images of the Ku Klux Klan and use the N-word.
Schaaf called the text messages "unacceptable hate speech," and said both sending and receiving, but saying nothing are serious offenses.
The text messages were apparently written in 2014.
The mayor thought it was important to note the text messages were sent by African American officers.
"But they are wholly inappropriate and not acceptable from anyone who wears the badge of the Oakland Police Department," Schaaf said.
Meanwhile, Figueroa is now on leave and has asked to return as a captain, according to Schaaf.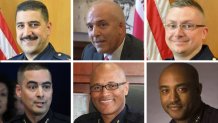 Figueroa was replacing Interim Chief Ben Fairow, who was removed from his position earlier this week and just five days after he filled the vacancy after Chief Sean Whent left the police force.
City Administrator Sabrina Landreth, who previously served as Emeryville's city manager, will temporarily take over control of the department, Schaaf said.
"I will not appoint another acting chief," Schaaf said, adding that it is now an "appropriate time to place the department under civilian oversight."
The shakeup comes amid a growing sex scandal. At the center of it is 18-year-old Celeste Guap, a prostitute who said she has had sex with as many as 28 police officers stretching across several counties and agencies, sometimes when she was a minor, sometimes for money and sometimes in exchange for information that would keep her from being arrested.