Some people are offering an interesting tip to protect car owners from thieves busting into vehicles in San Francisco.
At least two signs posted near Alamo Square Park encourage folks to adhere to common knowledge break-in prevention tips: lock your car, take your keys with you and conceal your belongings. The last tip is much more bizarre. It spurs car owners to "fill a decoy purse with thousands of angry, poisonous bees."
A woman who lives in the neighborhood said residents crafted the signs.
NBC Bay Area has reached out to the San Francisco Police Department for comment.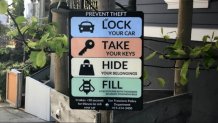 Last year, 28,984 car break-ins were reported to San Francisco police, according to the San Francisco District Attorney's Office. For comparison's sake, there were 24,624 car break-in reports in 2016, an 18 percent increase.

A recent NBC Bay Area hidden-camera investigation revealed thieves smashing into cars, snatching valuables and darting from the scene in a matter of seconds.