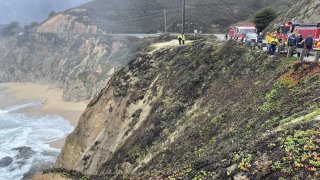 A person was rescued Thursday morning after a vehicle careened over the cliffs on Highway 1 at Devil's Slide, south of Tom Lantos Tunnel, in San Mateo County, according to Cal Fire.
The person was taken to a hospital in stable condition, the agency said.
Cal Fire CZU tweeted just before 9 a.m. that multiple agencies were at the scene on Highway 1 and asked the public to avoid the area.
No further details were immediately available.