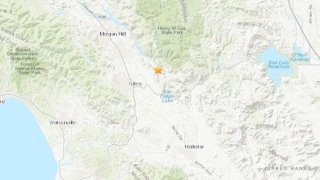 A preliminary 3.8 magnitude earthquake was reported in Gilroy Sunday afternoon, according to the USGS.
The USGS confirmed the quake was reportedly felt in Gilroy, San Martin, Morgan Hill, Hollister and Salinas.
Approximately 40 minutes after initial reports of the quake being a 3.9 magnitude, the USGS updated the quake's magnitude to 3.8.
No injuries were reported.
Editor's note: This story was update to reflect a change in magnitude from 3.9 to 3.8, according to the USGS.