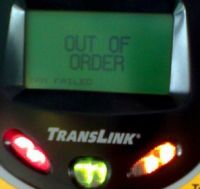 Blogger Akit, a frequent commentator on local affairs, had an (unpaid) day off thanks to budget cuts for state education, and while in downtown San Francisco dropped by the Montgomery Muni station in San Francisco to add a Fast Pass to his TransLink card for March.

But the machines refused to sell him the Muni-only pass, instead only offering the combined Muni and BART pass -- which costs an extra $10.
TransLink customer service recommended he buy the pass at a retailer like Walgreen's. The only problem: TransLink retail outlets only take debit cards, which means users of commuter-benefits cards can't purchase TransLink products.

It's just the latest in a long list of headaches for the TransLink system, not to mention Muni.

While the SFMTA wants 120,000 people using a TransLink card to board city transit this year, the card readers on the agency's fleet of vehicles are reportedly often broken -- meaning no fares collected.

So why are the folks behind TransLink intending to spend millions to rename the service "Clipper?" Probably because the current name is more closely linked to system failures than it is to transit systems.

According to the system's Twitter account, the problem is being worked on, but those with the Muni-only FastPass already can buy a new one from add value machines on the first of the month.

Jackson West likes TransLink in theory, but in practice, it seems like a hassle.
Copyright FREEL - NBC Local Media