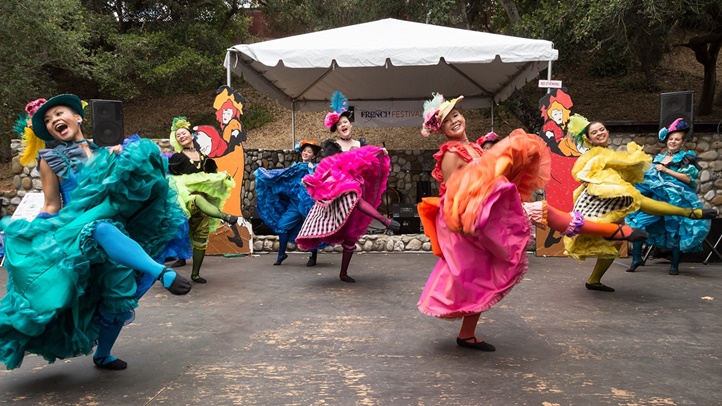 CREPES, PASTRIES, BREADS? There probably aren't enough "ohh la las" in the world to sum up how many eaters feel about such soul-satisfying, tum-filling, smile-summoning foodstuffs. And while we're in an age where quality carbs are available all over, there's still something about enjoying a baguette in a place where a lot of people have been be-beret'd. No, you don't have to wear a beret to the Santa Barbara French Festival, which'll give several can-can kicks over Bastille Day Weekend 2019, but plenty of attendees will have the iconic chapeaus on, or equally festive apparel. For the festival, which can trace its history...
BACK TO THE 1980s, has become the Central Coast spot to find the joie de vivre come mid-July. And that joie'll be back on Saturday, July 13 and Sunday, July 14 when several foodie vendors, and entertainment groups, and other Franco-tastic festivities set up le shoppe at Oak Park in the American Riviera. Find your way to the Moulin Rouge Stage, or the Eiffel Stage, or Accordion Stage, where the beautiful bellows will rule (the other stages will also include performances, dance instruction, and other delights, including the Femme Fatale Drag Revue at the Moulin Rouge Stage). And the adorable Canine Cavalcade? It wouldn't be the French Festival without a bunch of charming chiens on parade. As for the weekend's...
NOURRITURE? Croque Monsieur, quiche, crepes (both sweet and savory), Cajun classics, and French vinos will be for sale, along with several other delectable choices. Best "ohh la la" your way to the town should you crave a Parisian-style lark, but in California, over just a quick 'n quirky day or two.
Copyright FREEL - NBC Local Media