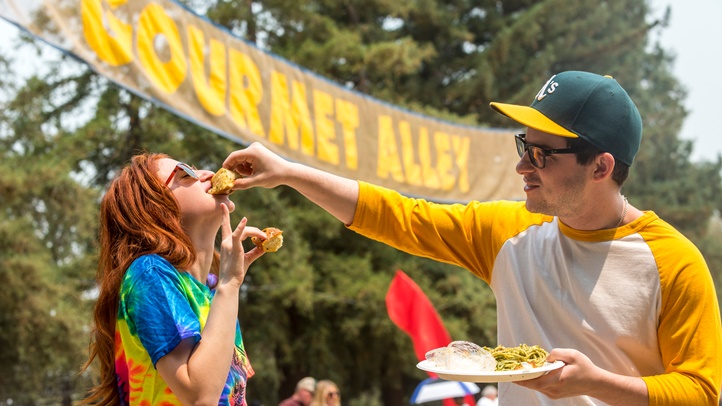 LET'S BE HONEST: You're going to have the garlic ice cream. In fact, you might have two scoops, if it is an especially warm day, the kind of day that the end of July traditionally delivers to much of the state. But the question is this: Will you go directly to the booth selling garlic ice cream the moment you stride through the gates at the festival grounds, or will you save it for dessert, in the way that ice cream is often (but not always) saved for dessert? These things do take planning, and pre-huddling with foodie friends, for you're going to have a lot of vivaciously flavored, sweet-of-sting vittles to get through at...
GOURMET ALLEY: We are, of course, talking about the Gourmet Alley at the annual Gilroy Garlic Festival, which fills out three fiery days near the very end of July (though not the end-end, for the festival cooks from Friday, July 28 through Sunday, July 30). And while the cooking demonstrations and contests may understandably draw your attention, you'll want to call upon Gourmet Alley once, twice, or thrice, just to make sure you've had a bit of every garlicky noshable you'd hope to try.
ON THE 2017 RUNDOWN? Garlic bread, natch, and zesty fried garlic calamari, stuffed mushrooms, pasta con pesto, garlic popcorn, and, fresh for the '17 scene, Gilroy garlic shrimp. If you're the sort of person who claims there can never be enough clove-y goodness in your meals, a swing-through Gourmet Alley should finally alleviate that understandable complaint. There's plenty of garlic to be had, in a variety of dishes, and whether you get to that garlic ice cream before, after, during, or throughout your festival visit is 100% up to your spicy-lovin' self.
Copyright FREEL - NBC Local Media