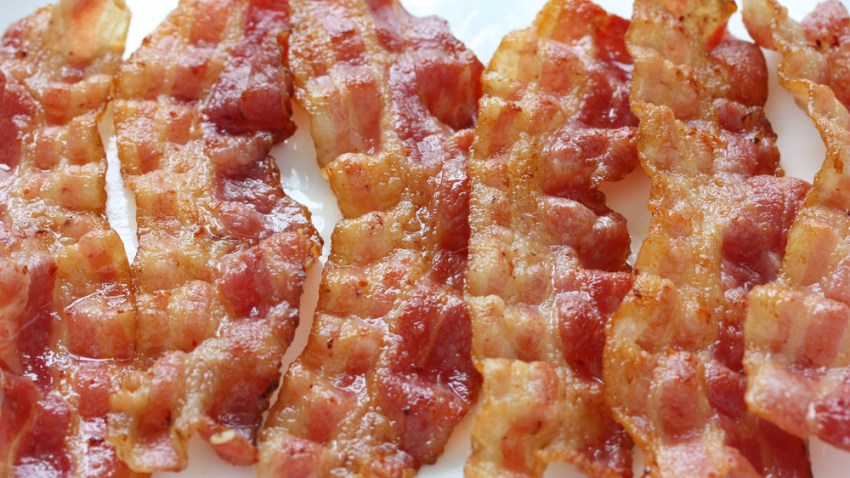 THE STRIP SUPREME: There was a day, lo about five years ago, when the sudden trendiness of bacon caught some commentators and bloggers by surprise. Suddenly every story was about bacon, and those stories that had absolutely nothing to do with the salty, meaty strip somehow were able to work in a reference or two. But the baconists among us simply laughed, slow-clapped, and went on appreciating the kingly breakfast food, a food that was around well before the advent of trend pieces. But here's where the bacon story took a twist: Unlike other foody 15-minute trends, bacon passed that mark. It's now one minute three thousand and twenty, thanks in part to bacon cocktails, bacon candy, and, yes, the proliferation of bacon-based events. The upshot? The fryable strip is no flash in the proverbial pan. One only need make for the San Jose Flea Market on Mabury Road on Saturday, Aug. 31 to see the salt-yummy evidence. Why? It's the San Jose Bacon Festival of America.
BESIDES... having a really great, epically minded name -- "of America" just lifts those strips to lofty heights -- the last-day-of-August date is a bit smart, too. What is summer but hot, a bit salty, a bit sizzly, and made for instant-gratification-y treats? And does not bacon apply in all of those categories? Indeed. The day will spring a plethora of happenings, including a bacon parade, and cooking competition, and "bacon games." We feel like we may need to sit down for a few minutes and quietly ponder what bacon games might entail. Does one pass a bacon strip to the next person, chin-tuck-to-chin-tuck, like the old Halloween apple game of yore? Please, bacon event planners: Include this in your bacon games.
ADMISSION: A day ticket is eight bucks, and then there shall be food to purchase, too. Us? We'll just be looking for a basic BLT. Nope, we're not snobs when it comes to the meaty icon in its newer, hipper forms -- and hipness has definitely arrived on the BLT's doorstep -- but you can't beat bread, mayo, bacon, and whatever leafy, juicy veges and fruits you want along for the ride. It's Americana, pure and simple, which makes the San Jose Bacon Festival of America's name kind of perfect.
Copyright FREEL - NBC Local Media