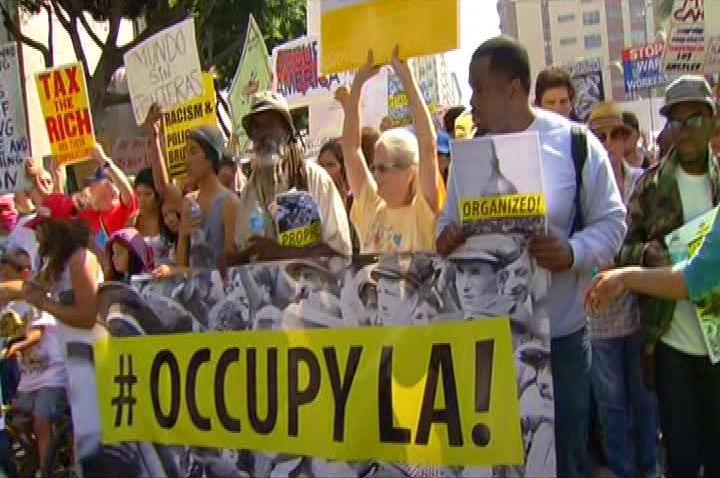 It is wonderful to see people standing up for their beliefs and using protest and civil disobedience to do it, especially in these times.
The Occupy protests all over the country have, at the very least, a very good point about the distribution of wealth in the country.
But place is everything in protests.
Occupy Wall Street has been effective and important because it's based at a park two blocks from Wall Street -- it's literally at a place that represents the power the protest targets.
Occupy LA, however, has gotten the geography wrong. It's protesting at Los Angeles City Hall.
It would be hard to pick a place less fitting than city hall.
The core of California's governance and economic problems is that city halls aren't powerful.
The big decisions about taxes, financing and economics are made elsewhere -- in Washington and in Sacramento, where decisionmaking has been centralized over the last two generations.
The corporations and economic powers that Occupy LA is targeting don't play very much at City Hall -- because they don't have to.
When it comes to local taxes and fairness and California, big companies use lobbyists and representatives in Sacramento to get what they want.
To be sure, it's very hard to find a place in California where one can protest a dominant power -- because power is not in the hands of particular people or agencies so much as it has been locked up in constitutional amendments and weird formulas that tie the hands of would-be rulers.
In LA, the dearth of Fortune 500 companies also limits the number of potential protest targets.
But there are many, many better choices than LA city hall for this kind of protests.
The most obvious is a short walk from city hall: Bunker Hill. Its office towers contain satellite offices of big banks and investment firms, as well as a few hedge funds and a number of law firms that represent big financial services companies.
So hey, Occupy LA, why not relocate up the hill to where the power is?
More on Occupy LA:
Wall Street Protesters Occupy LA
Occupy LA Demonstrators March Through Downtown
Occupy LA Protester Gets Eviction Reprieve
Let us know what you think. Comment below, send us your thoughts via Twitter @PropZero or add your comment to our Facebook page.