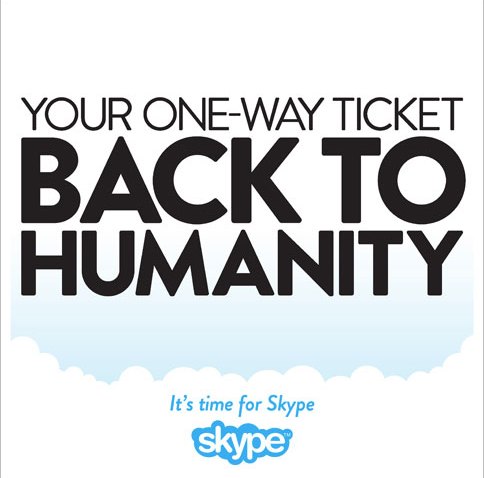 Skype is now taking a swipe at social media, saying it's robbing people of their humanity. Skype, however, keeps it all real.
The new $12 million campaign launched in London April 3, with big display ads that say things such as, "When Did LOL Replace the Sound of Real Laughter?" or "Your One-Way Ticket Back to Humanity." A few even target Twitter and Facebook, such as, "Upgrade from a Wall Post to a First-Class Conversation."
According to AdAge:
Pereira & O'Dell takes shots at the superficiality of text-based tech—Facebook, Twitter, SMS—while playing up the value of the face-time video chats provide travelers looking to stay connected. That's a smart point of difference for the brand to focus on, even if the executions themselves are a bit brash.
The ads are scheduled to hit the United States in the next few months. What's interesting is that Microsoft acquired Skype last year, and it also owns part of Facebook -- so why is it insulting the social network? We assume it's because this is about business and creating an identity for Skype, which is mostly known for cheap (but not that cheap) VoIP calls. This campaign may be able to set the Internet-based video conferencing and phone service apart from its competitors such as Google Voice, which it could easily portray as an intimidating tech monolith.
But is Skype more human? If being more human means seeing people with sallow skin, bad lighting and variable audio, then sure. But sometimes sending a text message is just easier.