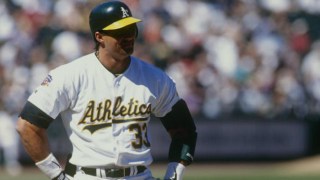 Jose Canseco is getting back out on the field this week – playing for the East Bay's other baseball team.
The former MLB superstar, who began his major league career with the Oakland Athletics in 1985, will play with the Pittsburg Diamonds in eastern Contra Costa County Tuesday through Thursday.
The Diamonds are an independent baseball team that's not associated with the MLB but features a number of players who have previously played for affiliated teams competing for the love and business of the sport.
"Our goal is not to develop players," Diamonds general manager Tom Macari told SB Nation. "Our goal is to entertain the fans."
The team joined the Pacific Association of Professional Baseball Clubs last season.
Tickets to this week's games are priced between $9-19. Canseco will also participate in a home run derby before Thursday's game.
Coming back 2 the east bay in Cali June 23 -25 to play w/the @diamondsproball & home run derby b4 the game the 25th. http://t.co/Gx9BJCoYiZ

— Jose Canseco (@JoseCanseco) June 18, 2015
Diamonds are going for a sweep tonight and their 4th strait! Jose Canseco will sign a 3 day contract with the Diamonds June 23-25th!

— Pittsburg Diamonds (@diamondsproball) June 12, 2015
Canseco flew in from Las Vegas earlier this month to play a weekend series in the North Bay, with the Sonoma Stompers, SB Nation reports.