It was an amazing seven-day stretch in Omaha last week for Maya Dirado and Molly Hannis, childhood friends who grew up competing on the same Santa Rosa swim team.
The two are now headed for Rio as members of Team USA.
Hannis, who swam collegiately at Tennessee, qualified with a second-place finish in the 200 breaststroke on Friday, after coming back from fourth place with 50 meters to go.
Stanford grad Dirado qualified for the 200 and 400 individual medleys. Then on Saturday night, she beat defending Olympic champion Missy Franklin to the wall in the 200 backstroke.
"And I enjoyed it," she said.
Dan Greaves, who coached the pair at Neptune Swimming in Santa Rosa, would like to tell you he saw this coming, but he can't.
"I don't know that I saw anything that would lead us to this," he said. "It's kind of insane, and I still don't really believe it. I'm speechless."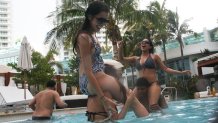 Greaves said qualifying for the Olympics is an anomaly for his swimmers because it's not how his program is built. The design, he said, is not to make the Olympic team but to simply manifest a love for the sport.
"I really don't know what to say," Greaves said.
Though they took separate paths after 10 years of guidance from Greaves, Dirado and Hannis are still friends all these years later. Now, they find themselves on the same team again.
But for Dirado, the Rio Games will be her first and last Olympics. She said before the trials she would retire after the games should she make it.
"Yeah, it was crazy," Dirado said. "And I'm glad that's how it ended."
Said Greaves: "For them to make the Olympics, it gives me chills every time I think about it. It's amazing."