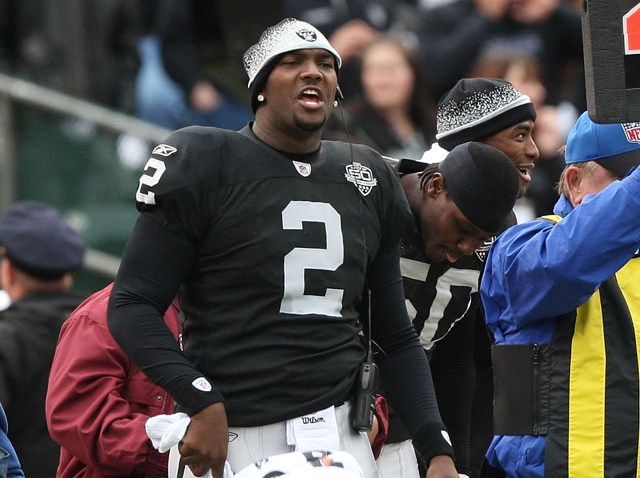 Raider Nation is enjoying a big belly laugh over the Oakland Raiders suing JaMarcus Russell for $9.55 million in already-paid salary. The impending legal battle promises to be the most hilarious and entertaining off-field sports controversy since the time Joe Buck put Artie Lange live TV.
But no fooling -- the Raiders actually have a very sound legal case here, and whatever happens will set a watershed precedent affecting future contract restructurings in the NFL.
The Raiders argue that the $9.55 million they're demanding back was an advance on Russell's salary for the 2011 and 2012 seasons. He'll no longer be playing for the Raiders those seasons, they want the salary advances back, and so it's not just sour grapes.
Well, it is too sour grapes of the most obvious order. But you cannot win in court if you admit that.
Longtime NFL agent Andrew Brandt explains on the National Football Post how the Raiders do plan to win in court. The Raiders restructured Russell's contract in 2009 via a complex salary advance procedure called "superseding".
Brandt's explanations here are the gold standard of NFL contract analysis. If you really want to understand the details of this JaMarcus vs. the Raiders contract battle royale, you need to not just read this article, but read it over three times.
"The Raiders superseded Russell's contract in February 2009, not changing the total amounts but changing the structure slightly," Brandt explains. "They had paid him a $19.9M salary advance prior to the supersede and paid out a $3.44M signing bonus following the supersede."
Whether that $19.9 million is legally considered a "salary advance" or an "option bonus" is the heart of this dispute, because the $9.5 million comes from that pot.
There is a small precedent here. The Denver Broncos sued Ashley Lelie after they cut him to recoup a similar bonus, and the Broncos won that case.
But that was a fight over $600,000. Russell and the Raiders are duking out over nearly $10 million here.
Even if the Raiders lose this case, they can still win. Remember that Russell has more than $3 million in guaranteed 2010 salary still owed to him by the Raiders.
JaMarcus Russell is more likely to win the Boston Marathon than he is to get yet another $3 million out of the Raiders. This grievance may be the first step toward "We drop the $9.5 million grievance, you stop asking for the $3 million we still owe you, let's call it even."
After all, does anyone really believe that JaMarcus Russell still even has $9.55 million left to his name?
Joe Kukura is a freelance writer who would believe that JaMarcus still has a $9.55 million tab at The Palms Buffet & Casino before he believed that JaMarcus has $9.55 million left in his bank account.
Copyright FREEL - NBC Local Media