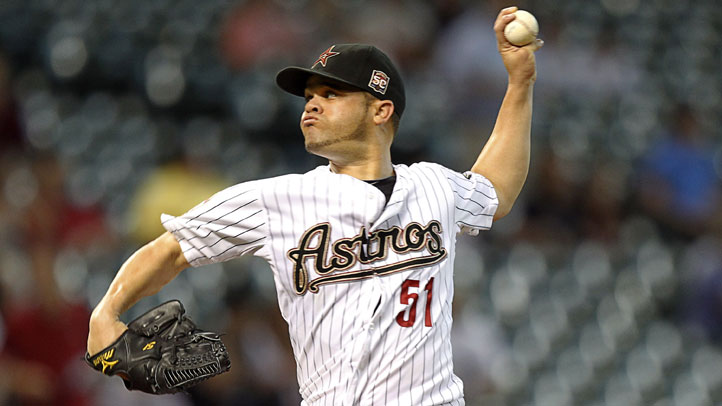 The Giants, because of the way the team is built, are typically tied to trade rumors involving hitters. But here's a surprising notion to marinate on: the Giants were reportedly looking at Astros pitcher Wandy Rodriguez in a recent start.
That's according to Jon Morosi of FoxSports.com, who reports that a number of teams were looking at Wandy's most recent start in Houston.
"Sources say representatives for the Yankees, Giants, Dodgers, Red Sox and Blue Jays were in attendance as left-hander Wandy Rodriguez allowed two earned runs over seven innings in a 2-0 loss to the Kansas City Royals," Morosi writes.
Morosi also reports that the Astros are "willing to listen" to offers for the left-hander. This shouldn't be a surprise; the Astros aren't in playoff contention and are in the middle of a rebuilding project. Moving veterans like Rodriguez, Brett Myers and Carlos Lee in exchange for prospects would be a wise move.
As for the Giants interest, well, it's surprising. After all, they have Matt Cain, Madison Bumgarner, Ryan Vogelsong, um, Tim Lincecum and, er, Barry Zito in the starting rotation. OK, so maybe it's not that surprising, given Lincecum's struggles.
They're not "one starter away" from being a top team in the majors, but they are "Tim Lincecum not pitching like the second-worst starter in the bigs" away from being all up on the Dodgers.
Still, Rodriguez will cost $13 million in 2013 and potentially another $13 million in 2014 if he hits certain bonuses.
And the Giants have been careful about adding gobs of salary going forward, at least when it comes to bringing in outside talent. There's a reason for that: Barry Zito and Aaron Rowand are still painfully yanking away salary on an annual basis.
Plus the Giants just saw Wandy pitch ... against them. He went six innings, gave up three runs and struck out three (though he did win). Good outing, but not mind-blowing.
There's no reason to rule it out totally, and if the Giants could find a way to pick up someone like Wandy without further gutting the farm system, it would be a nice move that could bolster the rotation going forward. Just don't expect it to happen.