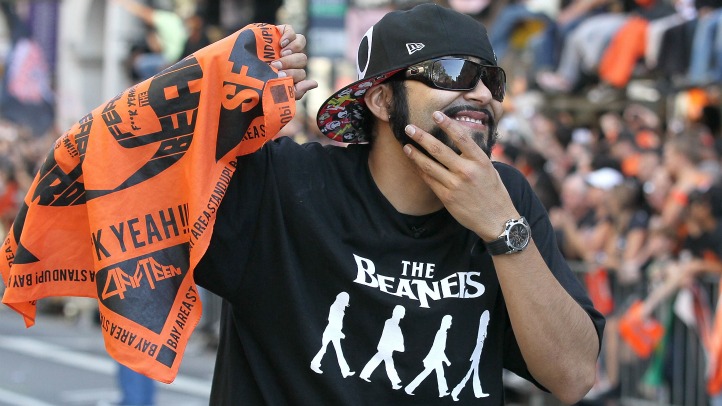 It's Opening Day, kids. Which means that we can all stop worrying about that silly NFL lockout and concentrate on the eternal hope thing that is baseball's beginning.
But it also means that we need to take a quick look back at spring training, and decide who boosted their value and who doomed themselves to a miserable remainder of the year, solely on their spring training stats. I kid, but seriously, how about some winners and losers from spring training?

WINNERS
Brandon Belt, 1B: How talented is this kid? Well, talented enough that the same team who kept Buster Posey in the minors until May is bringing him on board the MLB roster for Opening Day. Belt got the second-most at bats (71) of any Giant in spring training, so it seems clear management got their full look at him. Oh, and he did okay in those AB's too, posting a .282 batting average with three homers and 13 RBI. It doesn't hurt that his name makes Chuck Norris jealous either.

Barry Zito, SP: It wasn't but a few weeks ago that Zito was nearly looking droppable (and not just in terms of fantasy rosters either -- a real, live drop of a very expensive pitcher was potentially on the horizon). And over the second half of spring training, he's somehow managed to pull himself up by the proverbial bootstraps and put together some pretty darn nice starts. It remains to be seen if he can do it in the regular season, but he's looking good for now, scary opening-day car accident aside.

Buster Posey, C: I nearly dumped the reigning NL Rookie of the Year into the section below because he dipped below .400 (.396!) for the spring with one day to go. Oh, and it's kind of terrifying that he's playing well enough for members of the media to suggest he could win NL MVP. Don't get me wrong, it's possible, but as I've said previously, pretty unlikely. He'll still have a monster year though.

Sergio Romo, RP: The closer-in-waiting's been nearly unhittable as the Giants prepped for the season. His ERA (down in the 1's) and K/9 (nearly 9) give Bruce Bochy, Brian Sabean, and the training staff all the proof they need that not waiting on Brian Wilson to get healthy is a fool's errand and a long-term nightmare.

Aubrey Huff, 1B/RF: Not to be a jerk, but it seems pretty improbable that Huff could repeat the success he had in 2010, which netted him a new contract. And yet … you look at his spring statline (.396/.391/.692, 6 HR, 16 RBI) and maybe, just maybe, Huff's got some life left in his bat. If that's the case, this offense could end up being potent.

LOSERS
Brian Wilson, RP: Wilson ain't losing his job to Romo (yet), but not making it out of spring training because of a injury that has "hampering" stamped all over it isn't exactly a great sign that 2011 is going to go like the year before.

Pablo Sandoval, 3B: What? He lost 30 pounds. Hey-o! (Just kidding -- if I wasn't in the mood to make terrible weight jokes and/or wasn't anal retentive about going 5/5 on winners/losers, Panda would have made the winners, because it's pretty obvious that he's due for a bounce back in 2011, thanks to his weight loss and likely improved hitting and defense.)

Aaron Rowand, OF: I searched long and hard for somebody who didn't crush dreams or make the fan base hate him more than Rowand; it's just impossible. The good news is that Rowand's not a highly-overpaid guy who's blocking the path of a prospect just because he has a bloated salary. In fact, he's really just "expensive depth." That's reprehensible if you're a fan, but it's better than the former.
Santiago Casilla, RP: Casilla was thought to be a serious candidate for closing out games (he still technically is) but struggled through the spring, posting a 6.75 ERA over 10 innings with just two strikeouts. And it's hard to imagine that Bochy is going to hand him the rock in the ninth inning of games with Romo and Jeremy Affeldt around; both posted superb spring ERAs and Casilla appears to be odd-man-out for saves at this point.

Cody Ross, OF: Ross is someone who got crushed by a bit of a fluke injury in spring training and will miss a few weeks as a result of a torn muscle. Ross should be okay to regain his starting gig when he returns, unless Belt and Aubrey Huff catch absolute fire at first and right, respectively, and Rowand figures out how to reverse the process of zombification.