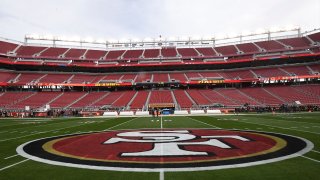 It has been a long time since San Francisco 49ers fans were able to cheer on the team from inside Levi's Stadium in Santa Clara. But the Faithful are set to return this season! Here's a breakdown of how to get to the stadium.
VTA
Fans in the South Bay can hop on a VTA light-rail train and head toward Great America station. They can also jump on a VTA bus and get dropped off near the stadium. Check out VTA's Levi's Stadium page for detailed information.
Caltrain
Fans living farther away from Santa Clara can hop on Caltrain, get off at the Mountain View station and transfer to VTA in order to get to the stadium. View Caltrain's Levi's Stadium page for more information on game day service.
BART
Fans can also jump on BART, get off at the Warm Springs/South Fremont station and then transfer to a VTA express bus. More details on the transit agency's "Take BART to the game" page.
ACE
Fans coming from afar can take an ACE train all the way to the Great America station, which is just a quick walk away from the stadium. View ACE's 49ers page for more information.
Drive
If you're planning on driving to the game, visit LevisStadium.com for more information on directions and parking policies.