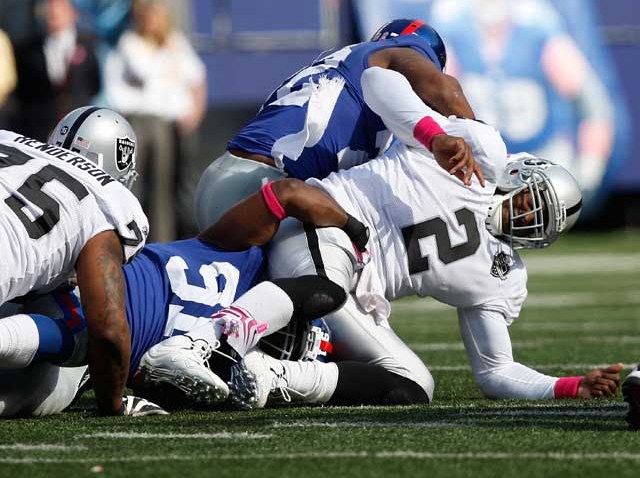 The Oakland Raiders began their involuntary off-season workout program this week. JaMarcus Russell was characteristically not there, and because of that, he's getting beaten around like it was that three-fumble six sack afternoon last October against the New York Giants.
David White of the Chronicle was in attendance, and he got a few off-the-record quotes from Russell's Raider teammates. "When asked if he'll show today," White writes, "one starter laughed and said 'That's a horror show.' Another starter said 'don't hold your breath.'"
This had all the makings of another super-size JaMarcus Russell controversy. So the Raiders quickly dispatched retired assistant coach Willie Brown to Comcast SportsNet Bay Area. "He's totally different from last year," Brown said of Russell, in a segment available online. "You'll be surprised when you see him. Quite a bit of weight he has lost, quite a bit."
Then Tuesday morning rolled around, the Raiders announced that Russell had indeed shown up. But no one was allowed to see him or talk to him. "The Raiders have no plans to make Russell available to the media," Jerry McDonald writes in the Oakland Tribune.
But you know who was available to the media? Our old friend Jeff Garcia, who has never been confused for a member of the JaMarcus Russell fan club.
"As much as I was willing and open to helping the young guys, he's gotta want to be open and willing to be helped himself," Garcia told Xtra Sports 1360 AM in San Diego, in remarks available online. "If he doesn't soon, he may find himself out of this league, just by the way this league operates."
Jeff Garcia, just for the record, is currently out of the league. He was cut by the Raiders, two weeks after Sports Illustrated named him the best backup quarterback in football.
Joe Kukura is a freelance writer who really wants a do-over on cutting Jeff Garcia.
Copyright FREEL - NBC Local Media