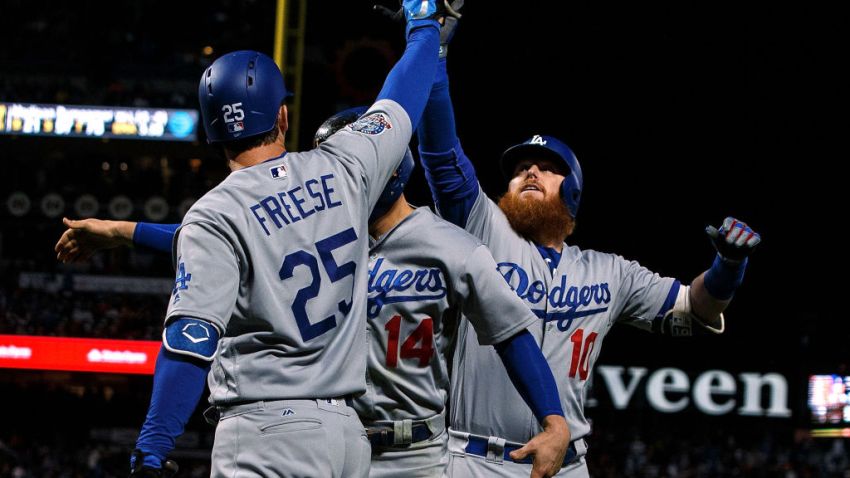 SAN FRANCISCO - In the top of the eighth Friday night, a Dodgers fan was dragged out of the seats in the lower deck by three cops. A few feet away, two cops placed another fan in blue under arrest. That was about the only excitement on a night the Giants hoped would provide so much more.
The Giants moved Madison Bumgarner back two days so he could try to put a dent in the Dodgers' postseason hopes. Instead, Bumgarner gave up a big homer with the game tied and the lineup did him no favors, hitting into five double plays. It added up to a 3-1 loss that kept the Dodgers within one game of the first-place Rockies and all but assured that they will at least play in the wild card game.
The Giants threatened repeatedly, but the ninth inning ended the same way. In the final frame, Brandon Crawford reached with one out. Aramis Garcia hit into the final double play of the night. Here's what you need to know from earlier ...
-- Bumgarner worked in and out of traffic the first two times through the order and finally got burned in the fifth. Enrique Hernandez, who is 19-for-39 off him, singled with one out. Bumgarner then threw a 90 mph fastball right down the pipe to Justin Turner, who blasted it out to left to give the Giants a 3-1 lead. In six innings, Bumgarner was charged with three earned on seven hits. He finished the year with a 3.26 ERA.
-- Bumgarner hit for himself in the bottom of the fifth despite having already thrown 96 pitches. That might have told you more about Bruce Bochy's lack of belief in his bench than about anything else. Bochy also pinch-hit for Austin Slater with the bases loaded. That didn't work out; Kelby Tomlinson hit into an inning-ending double play.
-- Yasiel Puig pinch-hit to lead off the seventh and got the loudest boos at AT&T Park this season. So at least the fans had that moment. Reyes Moronta got him to fly out to center.
Copyright CSNBY - CSN BAY