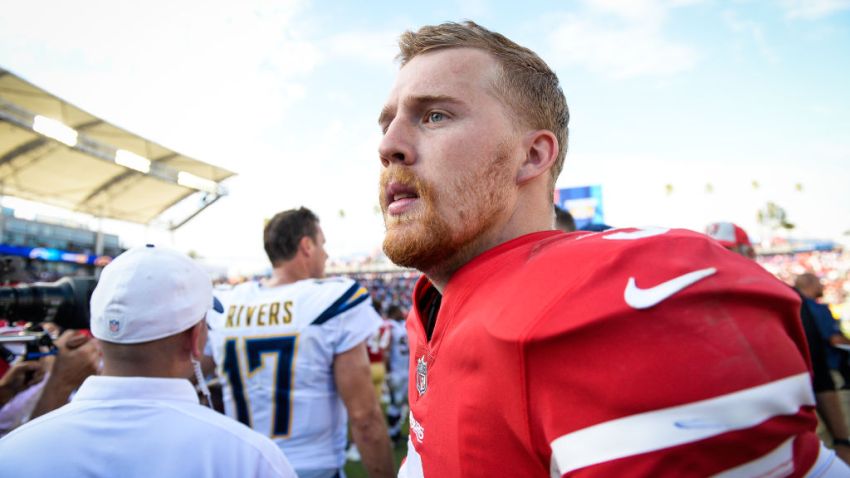 There are plenty of ways to lose football games. A team's defense can fail to stop the other team, the offense can't move the ball, the special teams may give up a touchdown (or two) and the coaching staff might make boneheaded decisions.
A team can also just give a game away with fumbles, interceptions and penalties.
Through five games in 2018, the 49ers – already hamstrung by significant injuries to key players such as quarterback Jimmy Garoppolo and Jerick McKinnon – are shooting themselves in the feet too often.
The 1-4 49ers are dead last in the NFL in giveaway/takeaway ratio at minus-8. The Niners have taken the ball away from opponents just three times, with one interception and two fumble recoveries, while giving it away 11 times, on seven interceptions and four lost fumbles.
In San Francisco's 28-18 loss to the previously winless Arizona Cardinals last week, the 49ers outgained Arizona in yards 447 to 220, had the ball twice as long and converted 58 percent of third-down opportunities. Yet the 49ers came away with another loss because they committed five turnovers while Arizona had none. Plus, the 49ers committed nine penalties to the Cardinals' five.
As head coach Kyle Shanahan said, the turnovers killed San Francisco's hopes.
"You look at a lot of those (offensive) statistics and it's hard to find how you lost a game," Shanahan told reporters. "Then it's very easy when you look at the turnover column. I haven't been a part of any game -- I don't think many people have -- where five turnovers to zero leads to a win."
Added running back Alfred Morris: "If you can't protect the ball, you lose the game."
Four of those turnovers were committed by quarterback C.J. Beathard, who threw two interceptions and lost the ball twice, although the first intercepted pass was accurate but bounced off the hands of Pierre Garcon and to a Cardinals defender.
As Eric Branch of the San Francisco Chronicle noted, NFL teams are 6-154-2 since 1970 when committing five more turnovers than their opponents. It was the most 49ers turnovers in a game since 2013.
In terms of penalties against Arizona, the 49ers were flagged those nine times for 65 yards. Through five games, only five teams have committed more penalties than the 49ers, who have 39 for 348 yards.
The 49ers will try to get back on the winning track this Monday night in Green Bay vs. the 2-2-1 Packers. Kickoff is set for 5:15 p.m.