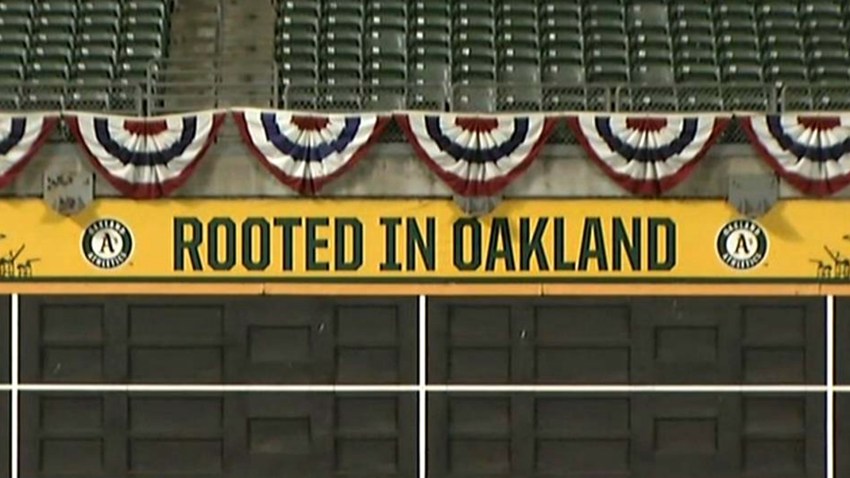 The Oakland Athletics — soon to be the only professional sports team in the East Bay city — are sending a message to their fans as opening day of the 2017 campaign arrives. The baseball franchise is "Rooted in Oakland."
That message of commitment to staying in Oakland comes on the heels of the Raiders earning NFL approval to ditch the East Bay for Las Vegas.
Aside from the three-word slogan, the team is also circulating television advertisements with prominent Oakland fixtures such as Mayor Libby Schaaf and the Oakland Zoo to remind fans that the squad isn't going anywhere.
Schaaf appeared to celebrate that reality last Monday when she raised an A's flag at city hall on the same day that the Raiders were given the green light to head for "Sin City."
On the field, the A's on Monday will host the Los Angeles Angels in both squads' first action of the regular season. The A's will send right-hander Kendall Graveman to the hill to challenge Los Angeles' Ricky Nolasco.
The game is scheduled to start at 7 p.m., but gates at the Coliseum open at 4:30 p.m., according to the team. That's because the A's will hold a special tribute to hometown legend and Hall of Famer Rickey Henderson. The team in February announced that the field at the Coliseum will now be called Rickey Henderson Field. The speedy left fielder played in the major leagues from 1979 to 2003.
Oakland may be "Rooted in Oakland" this season, but the team hasn't always appeared faithful. The team previously considered moving to San Jose.