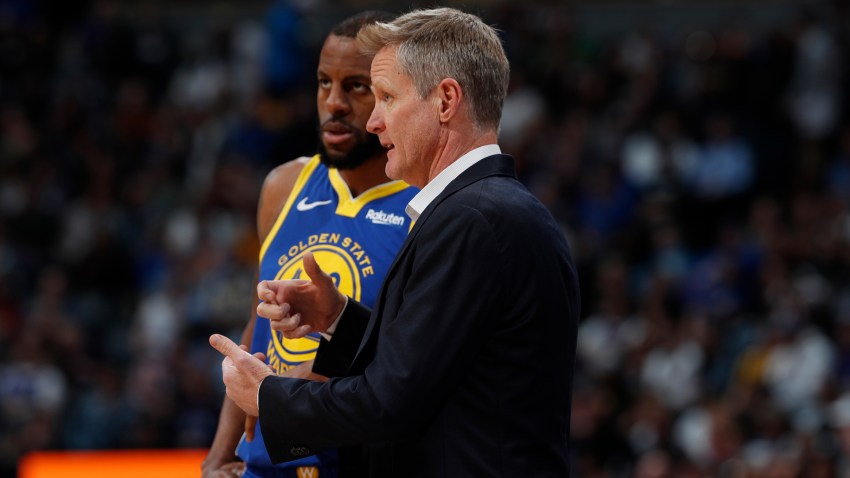 LOS ANGELES - Andre Iguodala has one more year left on his contract with the Warriors, but Golden State head coach Steve Kerr believes the 16-year veteran isn't close to being done.
"I think he can play beyond this contract if he really wants," Kerr said following practice Saturday morning. "He may not want to, he may just go to the golf course and call it a career but he can keep playing if he wants."
Despite his NBA mileage, Iguodala, 34, continues to be a key contributor for the Warriors, averaging 10.7 points, 4.7 assists and 4.0 rebounds in the postseason, making good on the 3-year, $48 million deal he signed in 2017.
"Not a lot of players who stay relevant deep into their careers, almost all of them have high basketball IQs," Kerr said. "He still has his athleticism, it takes him longer to warm up and longer to cool down but it's still there."
In Game 3 of the Western Conference first round against the Clippers, Iguodala finished with 15 points, three assists and two rebounds, helping the Warriors take a 2-1 series advantage, showing athleticism not normally seen from a player his age.
"Some of those dunks the other night plays he was making in the paint," Kerr said. "The guy is a remarkable athlete and the combination of his athleticism, his work ethic and his brain is going to allow him to play."
However, Iguodala may be out of the league sooner than his coach thinks. Last November, he told NBC Sports Bay Area's Monte Poole that his days in the NBA could be numbers.
"I'm going to be done soon," he said. "I could probably play a legit five more years, but I'll probably max out at three more after this year – maybe three more.
"But if I'm not here, that will weigh heavily on what I will do. I possibly have another year here – if we win. That's it. I know that. I'm fine with it."
Only Iguodala knows how long he can play, but however long he wants to stay with the Warriors, it seems his coach will welcome with open arms.
Copyright CSNBY - CSN BAY