Super Bowl 50 is still a ways away. But the money is already flowing in.
The host committee that's been tasked with bringing the National Football League's biggest event -- and the most-watched television spectacle in the United States -- to the San Francisco 49ers' new stadium in Santa Clara announced that it had raised $40 million toward that end.
Tech companies have pitched in big to bring the game to Silicon Valley, with Yahoo, Google, Apple and Intel all pledging $2 million in "cash and other services," according to reports.
But it's not just Silicon Valley's game: by appearances at least, it's all the City by the Bay's. Despite being played an hour's drive to the south, the Golden Gate Bridge is featured on the game's official logo.
One reason they can't use a depiction of the venue, the 49ers' new home, $1.3 billion Levi's Stadium: The NFL owns the rights to that image.
The logo was officially revealed at a news conference Thursday morning at San Francisco's Exploratorium museum on Pier 15.
Marin County-based artist Michael Schwab designed the logo, which includes many riffs on a "golden" theme, with the 50th golden game played in the Golden State in an area famous for its Golden Gate Bridge and golden rays of sunshine.
San Francisco Mayor Ed Lee said the city is preparing to host the major event - despite the stadium's location about 45 miles south in Santa Clara.
He said a team was sent to New York to observe this year's Super Bowl and more research on best practices is underway.
"We're all getting ready," he said.
Lee said the logo "means so much," and pledged to make this game the "most exciting...and most philanthropic Super Bowl ever."
Lee announced an initiative to give 25 percent of all money raised to local nonprofits that support low-income children, families and communities. Nonprofits that advocate for healthy lifestyles and protecting the environment will also benefit.
Lee said hosting the major sporting event will bolster regional tourism and the local economy. He expects hundreds of millions of dollars to be injected into local businesses, restaurants, hotels and more.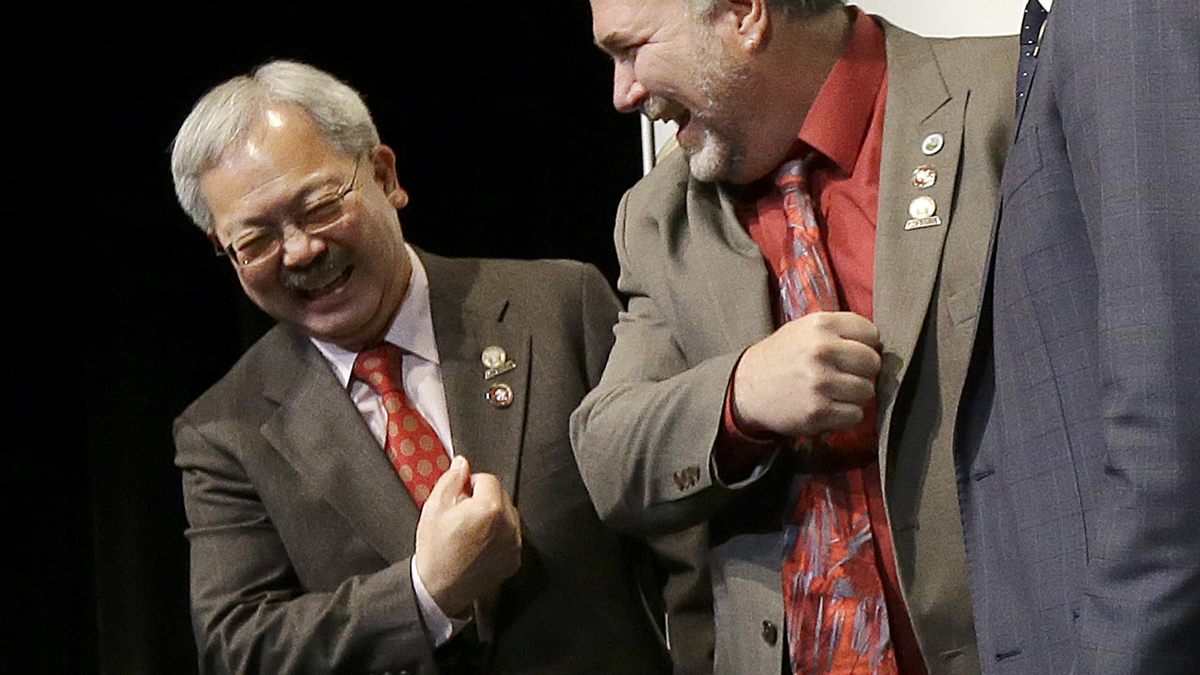 San Francisco Mayor Ed Lee, left, and Santa Clara Mayor Jamie Matthews flex their arms to mimic the pose of San Francisco 49ers quarterback Colin Kaepernick while standing for photographs at a news conference for Super Bowl 50 in San Francisco, Thursday, June 5, 2014.
"I expect every hotel from San Jose to Santa Clara to San Francisco to be filled," Lee said.
The NFL Experience will be hosted at San Francisco's Moscone Center and Lee said there are plans to book other Super Bowl events in the area near the convention center.
Details about managing transportation between the host city and the stadium were sparse today, with more specifics expected to emerge once the stadium opens.
A transportation task force has been created and tasked with evaluating how logistics work, according to host committee CEO Keith Bruce.
"What will really help is seeing how the stadium operates," he said.
Bruce reiterated there is no target fundraising goal, but stressed that the $40 million mark is a solid start 20 months ahead of kickoff.
"Our goal is to deliver a phenomenal Super Bowl," Bruce said.
Santa Clara Mayor Jamie Matthews called the newly released logo a "unique symbol" and emphasized the regional strength behind hosting the event.
"If we do this in a regional fashion -- we can't be beat," he said.
Levi's Stadium is expected to be completed in time to host a preseason 49ers game in mid-August against the Denver Broncos.
The first regular season game at the new stadium will be held on Sept. 14.
Lee said team Red and Gold is "ready to rumble" and "hopefully our team is there" when the 50th Super Bowl comes to the Bay Area.
Bay City News contributed to this report.

Copyright FREEL - NBC Local Media