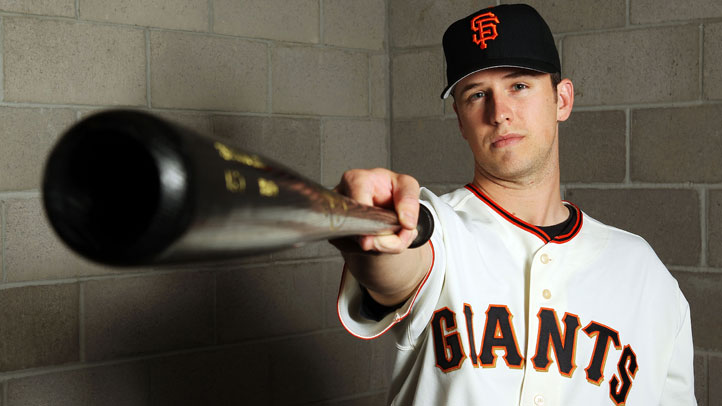 'They Might Be Giants' takes a look at some of the most important pieces to 2012's San Francisco Giants roster.
The Giants are a pitching-based team. They don't successfully draft and develop studly young hitters. This is the narrative we've been feed in recent years, and Buster Posey shattered it in 2010, when he won the National League Rookie of the Year Award and sparked the Giants to a World Series victory.

Then 2011 happened, and it was awful. Posey started slow, but things took a turn for the disastrous when Scott Cousins plowed through Posey on a play at the plate and shattered his leg/ankle/knee in a million little pieces. He was done for the year from the start and the only question was whether or not he could make it back in time for 2012.

But he did, and he's absolutely one of the biggest pieces to the Giants' scenario for success in 2012.

HOW DOES HE FIT
The obvious reason why Posey's so important is that the Giants offense wasn't the same without him. He's the best hitter on the team, and it's not even close. Posey plays a position -- catcher -- where offense is at an absolute premium. Many teams in baseball are willing to slap out a "second pitcher" type behind the plate; Posey's one of the biggest offensive threats at catcher we've seen in a long time.

Even when his batting average dipped early in 2011, he was still a critical component to the offense. Most teams in baseball can't replace 18 homers, 67 RBI and a .305/.357/.862 line over just 108 games. Even less can do it behind the plate. The Giants can't do it anywhere on the field.

But Posey's not just an offensive threat, either. He leads the pitching staff. Tim Lincecum and Co. were fine without him, of course. They're talented enough. But keeping the future of the franchise behind the plate, managing the pitching staff is what makes this Giants team whole.

Ultimately, Buster's the star on the outside. But to those watching this team closely, he's the glue.

EXPECTATIONS
Here's the good news for Buster: expectations are absolutely tempered. Posey's first hit of spring training was a home run, so it might be tempting to get excited and expect him to crank 30 homers, but that's not gonna happen.

Not in this ballpark. Not coming off a nasty injury like Posey did. And maybe not ever -- Posey's projections from 2010, enhanced to a full season, at least offer that possibility. But maybe, like Joe Mauer before him, what everyone wanted from Posey got too out of control too early.

Growth for baseball players is almost never exponential, but that's not how we see it or expect it. When someone steps up from Triple-A and shreds major-league pitching, handles a pitching staff, we start seeing "MVP" flash in big lights.

A quick regression/down year (see: Jason Heyward) can change that. And nevermind a big injury; all of a sudden the harsh reality of being a young athlete playing a short-term position sets in.

REALITY
Here's a reasonable offer for both Posey, the coaching staff and fans: have him show up, make it through the whole season looking comfortable, be Buster-to-Buster-light, and remind everyone how great it is that Eli Whiteside isn't behind the plate while providing a void beside it.

That doesn't mean Buster can't explode. He can. He can explode big time and help Giants fans forget all about 2011 and the not-so-subtle heartbreak of flailing after a World Series repeat with bats that had holes in them and a limitless supply of one-run games.

But if Buster gets healthy and simply starts producing, he'll get the Giants further down the road of where they need to be, and that's why exercising patience here is critical.