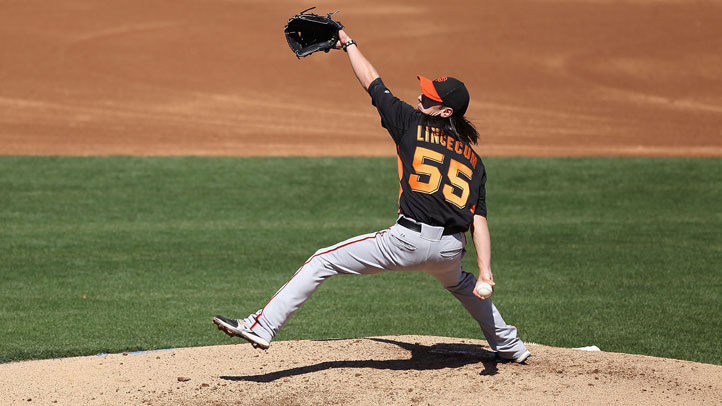 Tim Lincecum, to the chagrin of many fans, didn't pitch against the Rockies Thursday during spring training, instead choosing to toss 5 1/3 innings in high Class A.
But why? Well, according to Lincecum, he didn't want to give the Rockies a free scouting report on his pitching this close to the season, in advance of his April 11 start in Denver.
"We see so many NL West teams over here," Lincecum said, via Owen Perkins of MLB.com. "You try to avoid that when you're going right before the season so these guys don't get a knack for you and you don't get stupid things going through your head, either."
Additionally, Lincecum got shell-shocked by Colorado earlier this month, and admitted that he didn't want a repeat performance against the Rockies on Thursday to start creating doubt in his mind.
"Are these guys on me?" Lincecum said candidly. "You're questioning yourself sometimes in Spring Training. The first outing I had against [the Rockies] was absolutely terrible. Those things happen in spring, but it's hard to not take these things seriously.
"I'd actually get upset on bad outings just the way I would during the season."
That's the beauty of Spring Training: it offers up plenty of "just getting the kinks worked out" excuses that anyone -- from Lincecum to Barry Zito -- can use to shake off a bad performance.
But for a guy like the Freak, who hasn't dealt with injuries and who's expected to have a big season (at least by his standards anyway), getting smacked around by a division rival two times before the season starts isn't the best way to build confidence.
So even if it means side-stepping a matchup against a tougher team, it's probably the smart move on his part. We'll certainly know when April 11 rolls around.