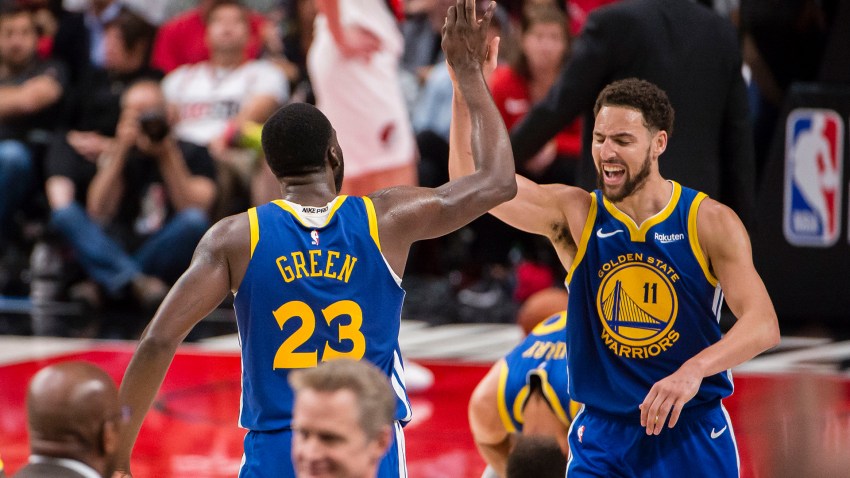 PORTLAND -- A sea of red. A crowd worthy of a win. A team that hasn't been there before.
Winning in the NBA is a process and the Portland Trail Blazers learned that the hard way in their four-game sweep at the hands of the Golden State Warriors.
It's not often that teams skip steps. The Denver Nuggets went from a team on the outside looking in last season to a double-overtime loss in Game 7 away from an appearance in the Western Conference finals.
The Trail Blazers made a larger leap.
After being swept in the first round last year, Portland became the best story of the 2018-19 postseason. Their epic win over the Denver Nuggets proved that they were ready to compete with other up and comers.
With Monday's Game 4 loss to the Warriors, the gap in experience was obvious and too much overcome.
"We couldn't get over the hump," Blazers head coach Terry Stotts said following the game. "I think it was more of a demonstration of how good they are and how good they have been over the years and they find ways to win."
Down Kevin Durant, DeMarcus Cousins and Andre Iguodala, the Warriors never seemed to miss a beat. They're headed to a fifth straight NBA Finals and their experience level is far beyond any other team at this point.
"Our experience has really been a big factor in our success, not only this playoff run, but the last couple," Warriors coach Steve Kerr said earlier in the evening.
Despite leading by as many as 17 in the third quarter, the Trail Blazers allowed the Warriors to close within eight to end the frame and you could feel the momentum shift.
This was a theme of the series. Portland led in Game 2 by 17 and lost. They led by 18 points in the first half on their home floor in Game 3 and fell by a final of 110-99.
[RELATED: Dubs erase deficit vs. Blazers once again, make history]
"There is a different intensity in the playoffs, just naturally because it's win or go home," Stephen Curry said. "We know how to find that next gear and it comes with the experiences that we've been through."
While the two teams split the regular-season series two games apiece, there is something different about the Warriors and postseason basketball.

"It's so hard over 82 games to elevate to that level on a nightly basis, but when it matters most, we have nights like tonight where we just find a way and take a team's best shot and run away," Curry said.
The Warriors won 73 regular-season games in 2015-16, but lost a heartbreaking seven-game series to the Cavaliers in the Finals that season. That defeat seemed to sharpen their focus on postseason play, which is one of the reasons why they've rattled off consecutive NBA championships since.
Portland hasn't been this far in the playoffs since the 1999-00 season, long before Damian Lillard and C.J. McCollum were hoisting triples at Moda Center.
Outside of reserve Rodney Hood, the Blazers don't have a single player on their roster that has ever been to a conference finals and their leader in postseason appearances is Evan Turner, who has played in his 63 games over his nine-year career.
By comparison, Andre Iguodala has logged 139 postseason contests and Kevin Durant is just a game behind with 138. Curry, Klay Thompson, Shaun Livingston and Draymond Green have all played over a 100 postseason games as well, many of which have come together as the core of the Warriors dynasty.
"It seems like these days, we're always going to be more confident because we've been doing this for a long time and we've seen pretty much every situation and had to respond to it," Kerr added.
Portland may have jumped a step or two in its progress. They will be better for the experience. They've learned what a championship team looks like when the chips are down.
"It's the furthest we have played in the postseason, and that's a bit deeper water than what we've seen," Damian Lillard said. "It's a bit more physical and mentally trying; the level of play is higher. There's more on the line."
The Blazers were able to take leads, but holding on to them against one of the great offensive clubs in history was too tall of a task.
There is no shame in losing a series to the Warriors. It was clear from the opening game that one team was celebrating the accomplishment of making it to the Western Conference finals, while the other had a much larger focus in mind.
The Blazers can walk away with their heads held high and with a new appreciation for what it takes to get to the next level.
Copyright CSNBY - CSN BAY