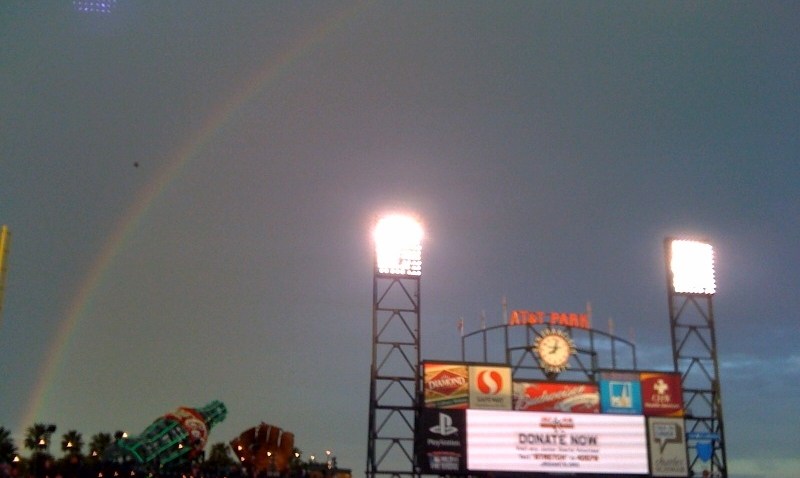 Buster Posey has been treated like a cult figure all spring. From the moment he crouched to catch his first bullpen at Scottsdale Stadium, to when he faced live batting practice at last, and even when he did nothing more than emerge from the dugout carrying his gear.

It didn't matter where he was or what he was doing, the Giants eagerly watched his every move right along with the fans.

Posey's long-awaited return from season-ending leg and ankle injuries suffered in a frightening home-plate collision last May 25 with the Marlins' Scott Cousins is the story for San Francisco as the club begins the 2012 season. San Francisco sure hopes Posey's presence in the middle of the lineup and behind the plate will go a long way toward bringing the franchise back to the magic it felt during an improbable World Series championship run in 2010.

"You start with Buster and having him back, having him out here, that's a big part of our club,'' manager Bruce Bochy said. "A very important piece of this club. ... We've had some changes, we have some new faces, and we really feel we're a much-improved club, more athletic. Still we have to go out and do it, but we certainly like where we're at right now.''

Posey, the 2010 NL Rookie of the Year, isn't worried about trying to make up for those 300 or 400 at-bats he missed while injured. His swing has felt great since last fall, and he is going with that.

"Even back in Arizona I felt pretty good after not hitting for four or five months,'' he said. "I guess I'm just blessed, in a sense, that I enjoy this game.''

Center fielder Angel Pagan has been with the Giants for merely two months and he clearly grasps what it will mean to have Posey back and Freddy Sanchez fielding grounders and turning double plays at second base again though Sanchez's status for opening day is in doubt as his surgically repaired right shoulder recovers.

Still, San Francisco feels complete again after an injury-plagued season derailed the 2010 champions' shot at chasing another championship.

With reigning NL West winner Arizona the early favorite to capture the division, Bochy's rejuvenated Giants expect to be right in contention when it counts.

And Pagan plans to do his part to complement all of the Giants' key returning players.

"They have high expectations and I have high expectations, too,'' Pagan said. "I prepared myself this offseason to help this club, to spark the offense, get on base and put pressure on the bases and hopefully set the table for the big boys to drive me in and put a couple of points early in the game. I think that's going to be our key to be successful this year.''

General manager Brian Sabean has vowed to keep his talented pitching staff intact for as long as possible, and San Francisco signed two-time NL Cy Young Award winner Tim Lincecum to a $40.5 million, two-year deal in January. It's unclear whether fellow All-Star starter Matt Cain will stick around beyond 2012 or test free agency. The sides have been negotiating this spring but Cain indicated he wanted something resolved one way or another by opening day.

The 27-year-old Cain, a two-time All-Star, went 12-11 last season with a 2.88 ERA and reached 200 innings for the fifth straight season a span in which he also has made at least 32 starts each year. He also didn't allow an earned run during the entire 2010 postseason.

Perhaps the two players with the most to prove this year are first baseman and left fielder Aubrey Huff and lefty starter Barry Zito.

Huff will have to consistently perform to keep hold on a starting spot. He practiced pilates to improve his conditioning during the winter in hopes of returning to his form from two years ago, when he batted .290 with a team-leading 26 home runs and 86 RBIs and was promptly rewarded with a $22 million, two-year contract that pays him $10 million this year and also includes a $10 million club option for 2013 with a $2 million buyout.

Then he hit .246 last season with 12 homers and 59 RBIs. Like Pablo Sandoval before him, he's the latest player to publicly be called to task by Sabean and Bochy.

"Everybody's healthy, that's all you can ask for,'' Huff said. "When you start talking about the long season 2010 everybody was healthy. We got lucky. In 2011, a lot of guys got hurt. As long as you're healthy good things can happen.''

Bearded closer Brian Wilson is back from an elbow injury that limited him late last season, and lefty reliever Jeremy Affeldt is fully healed from a freak Sept. 8 accident in which he seriously cut his non-throwing hand while trying to separate frozen hamburgers and didn't pitch again.

"I feel great,'' said Wilson, the 2010 majors-leading saves leader with 48. "Ready to rock.''

Shortstop Brandon Crawford is determined to make an impact in his first full big league season. The 25-year-old Crawford hit .204 with three home runs and 21 RBIs in 66 games last season, and the Giants want him to do more with the bat. He made an impression on Sabean and Bochy with strides in the Fall League, hitting .276. He was at .307 before his average fell with a 1-for-12 slump over the final four games.

"The unknown factor is gone,'' Bochy said. "He knows what he's looking at as far as playing in the major leagues. That's nice to know.''

For now, though, all eyes will be on Posey.

While Bochy hasn't put a number on how many games Posey might catch, there are no plans for a position switch to first at least not in the near future. In the aftermath of the injury, Posey acknowledges the thought crossed his mind, but only for a moment.

"I'm not going to lie, there were some thoughts a couple of months after, 'Well, maybe it wouldn't be bad to move,''' he recalled. "But then the more I thought about it, I realized how much I enjoy catching. As hard as I'm going to work and have worked and going to continue to work to get back behind the plate, I want to catch for as long as I possibly can.''

And that's right where the Giants want him for another memorable October run.

Copyright AP - Associated Press